Imam, Abu (1928-2007) historian and archaeologist. Born in Howrah, Kolkata on September 9, 1928 to Azia Khatun and Ali Muhammad of Garh Mandaran, Hugli (also Hooghli), West Bengal, India. Professor Abu Imam had his schooling in Howrah Zilla School, Schotish Church College, and Calcutta. After a year of study at Presidency College, University of Calcutta, he migrated to East Bengal and completed his BA (Honours) in History in 1951 from the University of Dhaka. With a scholarship from the Government of Pakistan, then called State Scholarship, he went abroad and obtained his MA degree in Archaeology in 1956 from the Institute of Archaeology of University College, London University.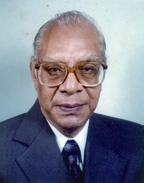 He completed his Ph.D. in 1963 from the School of Oriental and African Studies, London University. In London University, Imam got lessons from archaeologists and Indologists like Professor Gordon Childe, Sir Mortimer Wheeler, and Professor Arthur Llewellyn Basham.Professor Imam taught history and archaeology at Dhaka, Rajshahi, and Jahangirnagar Universities, and served as Professor, Chairperson and Dean for several terms in the last two Universities. He served as Assistant Curator of Dhaka Museum from 1956 to 1958 and Curator of varendra research museum in Rajshahi from 1964 to 1966. He was a Senior Research Fellow in Pakistan Studies at St. Antony's College, Oxford University between 1966 and 1970. As a consultant Professor Imam worked in the unesco Project on History and Archaeology of Central Asia.
As a member, he made his contributions to UNESCO's Project on Pakistan National Committee for 'International Council of Museums (ICOM).
Professor Imam's relentless efforts towards opening a separate department of Archaeology at university level finally materialized in 1985, when he could establish the Department of Archaeology at Jahangirnagar University with a grant from the Ford Foundation. Until now, it is the only full fledged Archaeology Department at the university level in Bangladesh. Prof. Imam retired in 1990.
His major works include Sir Alexander Cunningham and the Beginnings of Indian Archaeology (1966) and Excavation at Mainamati: An exploratory Study (2000). He was president of the itihas samiti, and member of asiatic society of bangladesh and a member of the Board of Trustees of the Bangladesh National Museum. He also served on the editorial board of the banglapedia. He died in Dhaka on 27 February 2007. [Mohammad Mozammel Hoque]