Islam, Aminul (1931-2011) One of the foremost artists who participated in the Bangladesh Modern Art Movement that initiated in 1950's. He was born in Tetia, a village located on the bank of the river Meghna, on 7 November 1931. He received his primary education in Mahut Tuli Primary School in Dhaka. From his boyhood he started to cherish a desire to become an artist inspired by the folk art items such as fairy tales, pithas (cakes) and embroidery works.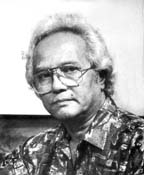 This desire came true when he got himself admitted in the newly established Government Institute of Art, Dhaka in 1948. He obtained his graduation in first division from this institute in 1953. He was one of the brightest students of first batch of this institution. In 1953 he received a scholarship from Italian government and went to pursue advanced studies in Academy del Belle Arte in Florence. After returning from Italy in 1956 he joined as a faculty member in the Institute of Fine Arts, Dhaka. He was the first lecturer of this. In 1978 he was appointed as the principal of this institute from which he went into voluntary retirement in 1983. He was honored with 'Ekuxey Padak' and 'Swadhinota Padak' in the years 1981 and 1988 respectively.  
Aminul Islam never followed any particular style in his life. He emphasized forms in his paintings. Geometric forms have appeared in his paintings in different styles. Though his earlier artworks are marked by delicate presence of forms, later in the 50's he developed a different style by tactful use of textures. In this painting forms are arranged such a way on the canvas that they intersect one another. This style eventually leads to cubic style of painting. On the contrary colors appear to have greater importance than forms in his paintings of the 1960's. Abstract ideas rather than previously used geometric forms are prevalent in his artworks of this period. His art style took another sharp turn in post-independence years when he inclined towards collage consisting of oil, shards of glass and hardboards.
Aminul Islam designed ten murals which are displayed in different locations in Dhaka city. Among those the mural at the interior of old Bangladesh Bank building (1968), the mosaic mural on the front wall of Osmani Hall, Dhaka (1984), the 20 ' 20 feet mural at the entrance of the Janata Bank Head Office in Motijheel (1986) and the 84 ' 15.1 feet mural at the terrace of the new thirty-two storied Bangladesh Bank building (1996) are the most prominent. Aminul Islam breathed his last on 8 July 2011. [Vadreshu Rita]