Islam, Jahurul (1928-1995) businessman, entrepreneur and social activist was born in Bhagalpur village of Bajitpur thana under Kishoreganj district on 1 August, 1928. Jahurul Islam spent his childhood in Bhagalpur village. He studied upto class five in the local primary school. Later on, he studied at Shararchar High School and Bajitpur High School. Subsequently he moved to Kolkata with his uncle Murshid Uddin Ahmed. He passed the Matriculation Examination from Ripon High School, Calcutta. Though he had great enthusiasm for higher education, he could not afford further education because of economic hardship. Poverty drove him to earn his own living. In 1948, he joined the then C and B department as one of the very low-grade employees. Being unhappy with the job, he left it and launched a humble contracting firm which was within his direct experience as a C and B employee.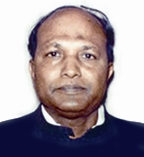 Jahurul Islam began flourishing as a contractor. Later on, he established Bengal Development Corporation which over time grew into a great construction house. Islam's reputation as an upright, honest and serious contractor spread far and wide and with it grew his income and influence.  Larger and larger development works that he got contracted led him to compete with many non-Bengali contractors, who were then controlling the construction sector of the economy almost exclusively. Over time, Jahurul Islam grew into one of the most influential personalities in the country's development sector. 
Jahurul Islam's image as a development entrepreneur is enshrined in the constructions like Bangladesh Bank, High Court Building, Supreme Court Building, Ganabhavan, Nagar Bhavan and various elite shopping complexes. In the building history of Bangladesh, Jahurul Islam became a legend as he completed successfully the construction works of MP Hostel and Old Sangshad Bhavan buildings in Dhaka and also the huge silos and several highways across the country.
Although Jahurul Islam had no formal education in development economics and capital management, he discovered through his ingenuity new areas for investment. He could foresee the housing problem in Dhaka in near future as a result of its very fast population growth and urbanisation and development spree. Thus he conceived the idea of launching a housing industry and established the first real estate organisation in the country- Eastern Housing Ltd (1965). Similarly, he could also foresee the great importance and prospects of banking industry in the private sector. Thus he established the Eastern Banking Corporation. He could also foresee the importance and prospects of mechanised irrigation in the country. Thus he founded the Milaners Pump Industry to produce modern equipment and tools especially relating to irrigation. Jahurul Islam also took up initiative in setting up a number of jute mills, pharmaceutical industry, automobile assembling plants and so on. He was the first person in the country to undertake furniture manufacturing as an industry.
Jahurul Islam's innovative enterprises gained momentum after 1972. In 1975, he founded the Bengal Development Corporation (BDC). It was the first Bangladeshi real estate construction firm of international standard. The BDC got construction contracts in the Middle East through international bidding. BDC's major achievements included construction of 5000 houses using new technology in Abu Dhabi and development of new satellite twonships in Iraq and Yemen. A huge number of Bangladesh nationals were sent to those countries for implementing BDC's projects there and thus Jahurul Islam also became one of the pioneers of manpower export. His innovative ideas also ushered in a new era in agriculture, poultry and fisheries sectors in which he invested huge amount of capital in expanding the agro-based industries and development initiatives.
Jahurul Islam realised that the affluent society had a major responsibility in improving the lot of the country's common people. So, personally he performed his responsibility as a son of the soil by founding many schools and colleges and giving cash grants to many educational institutions. He also awarded stipends to poor and meritorious students for facilitating higher studies by establishing an organisation called Majedul Islam Trust. His remarkable contribution in the education and health sector is his Jahurul Islam Medical Collage and Hospital (1989) that he established at his native village- Bhagalpur. Local people as well as people from nearby districts are being provided by this hospital modern medicare services at an economy cost. Jahurul Islam Medical College is now considered to be one of the best private medical colleges in the country.
During the 1974 famine, Jahurul Islam opened 200 gruel kitchens to feed the poor and hungry for 5 consecutive months. In spite of all these achievements, Jahurul Islam used to maintain a low profile in the media and in the society. Creator of jobs for millions, Jahurul Islam, never entertained the idea of self-publicity in boosting up personal image. As he was very pious in his personal life, he built up many mosques and helped others in constructing mosques. He sponsored holy hajj for many Islamic scholars of Bangladesh. Jahurul Islam died on 19 October 1995 in Singapore. He was buried at his village home, Bhagalpur. He is survived by a son and four daughters. At present, his son Manzurul Islam is the chairman of Islam Group, the consortium of enterprises founded and nourished by Jahurul Islam. [Sayed Mahmudul Aziz]