Jagannath University established through upgrading the Jagannath College of Dhaka under the Jagannath Univesity Act (No 28) enacted by the parliament in 2005. Academic activities of Jagannath University began from the 2005-2006 session with 26 thousand students of 22 departments under four faculties already enrolled in the erstwhile jagannath college. The first vice chancellor was Professor Dr Sirajul Islam Khan.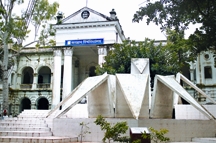 The area of University campus is more than eleven acres having many buildings including Administrative Block, Arts Faculty Building, Social Science Building, Business Studies Building and some other structures. Currently, the university has four faculties, 28 departments, one language centre, 25 thousand students and 229 teachers. The departments under the Faculty of Arts are: Bengali, English, History, Islamic History and Culture, Islamic Studies, Philosophy and Law. Physics, Chemistry, Zoology, Botany, Statistics, Mathematics, Geography and Environment, Psychology, Pharmacy, Microbiology and Bio-technology and Computer Science and Engineering departments are included in the Faculty of Science. The Faculty of Social Sciences has the following departments: Political Science, Economics, Sociology, and Social Work, Mass Communication and Journalism and Anthropology while the Faculty of Business Administration comprises of Accountancy, Management, Finance and Marketing departments.
The central library of the university is located in the new multistoried building. It has many local and foreign journals and Internet facilities. The university does not have any residential facility for teachers and students, but they do enjoy transportation facilities at a subsidized rate. Separate research journals are being published from most faculties. [Md Mamunur Rashid]
See also jagannath college.