Jagjivanpur a recently excavated archaeological site in West Bengal (India) which has yielded remarkable antiquities including the structural remains of a Buddhist monastery built by a hitherto unknown Pala king, Mahendrapala.
Located 36 kilometres east of Malda town, the village can be approached through a pucca road which passes through Bulbul Chandi, Habibpur and Bahadurpur villages. It stands close to Rajshahi district of Bangladesh. A number of waterbodies and vast stretches of rice fields dominate the landscape. There are a number of stupa or mounds, locally known as Bhita and Danga. Among the prominent mounds are Tula Bhita or Salai Danga (78.58 x 78.33 m), Akhari Danga (72.29 x 28.28 m), Nim Danga (40.86 x 28.28 m) Mai Bhita (110.01 x 78.58 m) and Nanda Garh, which has been destroyed completely. Several other mounds of varying heights can be seen all over the area.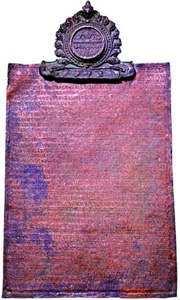 The importance of the site was indicated by the chance discovery of a copperplate charter, which revealed the identity of a hitherto unknown ruler of the pala dynasty. Issued from the victorious camp (jayaskandhavara) of Kuddala Khataka in the pundravardhana bhukti in the seventh regnal year (c 854 AD) of Maharajadhiraja Mahendrapala, the son and successor of Devapala, the charter mentions the construction of a monastery (vihara) under the patronage of General (Mahasenapati) Vajradeva at Nandadirghika Udranga. Vajradeva requested the king to grant him the above-mentioned land for 'worship, copying (manuscripts) and such other activities'.
Taking cue from the inscription, the Directorate of Archaeology and Museums, West Bengal, began exploring the area around Tula Bhita from August 1990. A miniature bronze seated Buddha (4.4  3.5 cm) in earth touching gesture (bhumisparxa mudra) was acquired from a local resident.
It was reportedly found from the Tula Bhita mound. Encouraged by this find, the mound was taken up for systematic excavation in 1992. Meanwhile, other mounds were identified, measured, and documented and by 1995 full-fledged excavation began.
Covering an area of 9432 sq m, Tula Bhita mound has now been divided into 262 trenches (each measuring 6m x 6m). Excavation so far done in 78 trenches, have laid bare a considerable portion of a huge monastery, evidently the one referred to in the copperplate.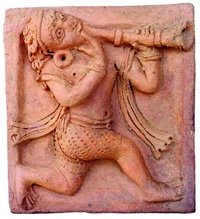 The excavation has revealed six distinct layers of deposit showing different stages of activities of which 2nd to 4th are the most important. The site is monocultural, ie no pre-Pala settlement could be traced. Two phases of construction work could be identified - the first one was abandoned possibly due to some fluvial activities, over which came up the second period of construction without any substantial chronological hiatus.
Like many other Buddhist sites Jagjivanpur is immensely rich in terracotta plaques; more than 250 plaques have been found from the Tula Bhita mound alone. Made of fine, levitate clay, often with a micaceous compound, the plaques are normally red in colour. Rectangular in shape, the plaques measure between 31  23  6 cm and 26  25  5 cm. Like the contemporaneous paharpur, mahasthan, mainamati and Antichak plaques, the Jagjivanpur plaques present a broad range of themes-mundane, sacred, and decorative. Narrative themes, however, are conspicuously absent.
Jagjivanpur plaques are sensitively modelled. What characterises them is the ease with which the figures are shown in movement. Often, the agile figures can be seen in profile; the device accentuates the sense of movement.
A number of visual formulas - tilted heads, raised hands, folded legs, and smooth breaks in the body axis - emphasise the dynamism of the artists' vision and signal a departure from the placid and quiet world of Gupta art. In the delineation of ornaments and jewellery, the artists' penchant for volume stands out in bold relief. One favourite theme in view is of warriors carrying swords, staffs, clubs, and shields. They have powerful physiques accentuated by the undraped torso, brief lower garment (dhuti), and boldly executed ornaments. They are shown in action, with a forward or lateral thrust.
There is an interesting plaque depicting a sacred text. A manuscript surmounted on a blooming lotus is beyond doubt an object of veneration. Each end is tied with strings - a definite indication regarding its identification as a manuscript. Buddhist tradition has attached great importance to the copying and worship of sacred texts. Manjushri, the Buddhist deity of learning, is associated with the sacred manuscript. The plaque most likely depicts the sacred text Prajnaparamita. An extraordinarily sensitive piece depicts a kneeling devotee, with a stubby beard covering his cheeks and chin, head turned sideways, mouth wide open, eyes lit with expectation, hands laid on chest in the gesture of veneration. There is also representation of zodiacal signs (Raxi) in two plaques.
Apart from the terracotta plaques, more than a hundred terracotta seals and sealings have been found so far. They are circular in shape and carry legends of varying length from one to three lines. Most of the seals/sealings are monastic, while some others are personal and votive in nature. A solitary monastic sealing with the dharmachakra and deer motif bears the name of the monastery. Inscribed in the ninth-century eastern Indian script, the sealing reads: xri Vajradeva Karita Nanda Dirghi Vihariya Arya Bhiksu Sanggha (sya). [This is the official sealing] of the venerable community of monks residing in the Nanda Dirghi Vihara (monastery) established by Shri Vajradeva.
Another significant find is a bronze image of Marichi (175 cm height) of c 9th/10th century AD. Among other antiquities are beads of terracotta and semi-precious stones, decorated bricks with various designs, items of everyday use like iron-nails, terracotta lamps, dabbers and a large number of pots and pans coloured red and grey.
The reasons for the decline of the monastery, however, remain unexplained. [Gautam Sengupta]
Bibliography S Iyer and KV Ramesh, 'Malda District Museum Copper Plate of Mahendra Pala Deva yr 7', Epigraphia Indica, 46, 1992; Sudhin De, 'Excavations at Jagjivanpur - A Preliminary Report', Pratna-Samiksha, 2 and 3, Calcutta, 1993-94; Gautam Sengupta, 'A General's Act of Piety: A Newly Discovered Buddhist Monastery of Ancient Bengal', Marg, 50 (4), 1999; Amal Ray, 'Samprati Abiskrta Bauddha Vihara Jagajjivanpur' (in Bangla), Puravritta, 1, 1407 BS.