Janmastami Hindu religious festival held in observance of the birthday of krishna, who is traditionally believed to have been born on astamitithi (eighth day) of the moonless fortnight of Bhadra. Thus the day is known as Janmastami. Janmastami festivals are held in Bangladesh on this day.
Processions have long been brought out on the occasion of Janmastami in Dhaka city. These processions were once so famous that people from a long distance used to come to watch them. It is believed that Janmastami processions were begun by a sadhu (holy man) of Bangshal in 1555.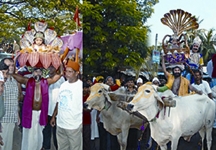 It was then called 'Shri Shri Radhastami'. Later on he received permission from the local administration to bring out a more gorgeous and festive procession on the occasion of Krishna';s birthday.
The first gorgeous Janmastami procession was brought out in 1565. Responsibility for the procession was given to the family of an affluent businessman, Krishnadas Basak. In 1725, two businessmen, Gadadhar and Balai Chand Basak of Islampur, organised another procession. To avoid any conflict between the two groups, the British government of the time issued instructions that the two processions should be brought out on two separate days.
During the colonial period, both Hindus and Muslims used to participate in the Janmastami processions, which would present the life-story of Krishna through songs and dances. Different ancient stories were also depicted through paintings or acted by clowns. After the partition of India in 1947, many Hindus, including patrons of the procession, migrated to India. There were also a number of vandalism on Janmastami processions. As a result, these processions were seldom brought out pompously.
Janmastami processions were revived after the independence of Bangladesh in 1971. At present, Janmastami processions are brought out from Dhakeswari Temple every year. After going round different areas of the city, the procession culminates at the temple. The day is a public holiday. Different organisations and institutes hold religious discussions and cultural shows on the occasion. Articles highlighting the ideals of Krishna are published in the newspapers. Radio and television also put up special programmes on the occasion.
The devotees of Krishna believe that if they observe Janmastami vrata, they are absolved of their sins and that those who perform this vrata regularly are blessed with children, fortune, good health, and ultimate salvation in the after-world. In some areas, Janmastami is known as 'Gokulastami'. [Dulal Bhowmik]