Jatar Deul' a remarkably lofty tower standing near the estuary of the Moni river in Lot no 116, east of Kankandighi, deep inside the sundarbans in the 24 Parganas of West Bengal. Some scholars thought it to be a victory tower of pratapaditya of Jessore while others have differently identified it as a Buddhist pagoda, a Hindu temple and even a shrine.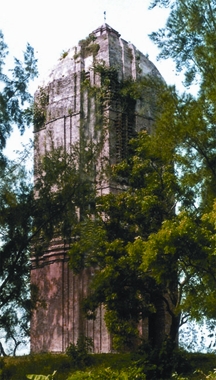 Square in ground plan, measuring 9.37m each side (outside) with a slightly rectangular projection in the middle and appointed arched entrance on the east, measuring 2.9m, it rises to a height of about 30.48m. The inside cellar, about 3.05m square with thick walls has a high plinth built on a high ground. Its floor is about 1.83m below the present level of the ground and reached by a flight of steps. The whole fabric of the monument is built with thin country bricks and decorated sparsely with carved bricks.
The Deputy Commissioner of Diamond Harbour reported in 1875 that a copperplates grant, discovered at a place close to the Jatar Deul, recorded in Sanskrit the date of its building by Raja Jayantachandra in Shaka 897, corresponding to 975 AD. The copperplate is not traceable now.
This tower bears close resemblance to the Ichhai Ghosh Deul, located on the south bank of the Ajay near Kenduli which is believed to have been erected during the reign of devapala (c 810-40 AD). Some scholars think that Jatar Deul was also built about the same time.
Brought under the protection of the Archaeology Department, the monument was repaired in an indiscreet manner obliterating its original shape and features. From an earlier photograph taken before its recant conservation work, it is evident that Jatar Deul represents one of the earliest brick temple in Bengal, surviving precariously in the remote mangrove forest of the Sundarbans. Built in the early Orissan style it bears close affinity to the more ornate Siddheshwar temple at Bahulara in Bankura district and therefore, it is of considerable architectural merit. [Nazimuddin Ahmed]
Bibliography WW Hunter, Statistical Accounts of Bengal, I, London, 1875; Kalidas Dutta in VRS Monograph, No 3, Rajshahi, 1927; RC Majumdar (ed), The History of Bengal, I, Dhaka, 1943; Satishchandra Mitra, Jasohar-Khulnar Itihasa,II, Calcutta, 1965.