Jenkins, Walter Allen (1891-1958) educationist. A British national Walter Allen Jenkins was born on 1 April 1891 at Rotherham in England. He had his early education in Rotherham Grammar School, and graduated from Emmanuel College, London. Jenkins obtained D.Sc degree in 1925 from Sheffield University and LL.D from Cambridge University.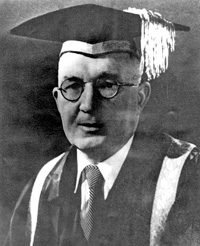 Jenkins joined Indian Educational Service in 1916. He was the Professor of Physics in the Dhaka College in 1921, when he joined the Dhaka University and served there as Professor and Head of the Department of Physics till 1926. He was Dean of the faculty of Science (1921) and Provost of Dhaka Hall of Dhaka University (1924-25). During these years he held other important academic and administrative positions in the University. He was a member of the first Academic Council (1921), member of the Executive Council (1924), member of Finance Committee of the Executive Council, president of the Dhaka University Students Union (1924-25), secretary of the Student Information Bureau, and representative of the University to the Intermediate Board.  
Jenkins served as Divisional Inspector of Schools (Chittagong) from 1926 to 1933 when he was appointed Special Officer to the Government of Bengal. Thereafter, he was the Director of Public Instruction of Bengal (1943-45), and Secretary to the Government of Bengal (1945-47), Administrative Adviser to the Machinery of Government Treasury (1948-1949). From 1949 to 1953 Jenkins was the Registrar of the University College of North Straffordshire. He joined the Dhaka University as Vice Chancellor in November 1953 which office he held till November 1956.
Walter Allen Jenkins was well versed in English, Bangla, Hindi and German. A good number of his research articles on Physics have been published in defferent journals and periodicals. He died on 26 September 1958. [Muazzam Hussain Khan]