Jor Bangla Temple is situated two kilometers north-east to Pabna town. This is one of the most remarkable historical and architectural structures of Bengal. The construction of this temple is somewhat different from that of other temples.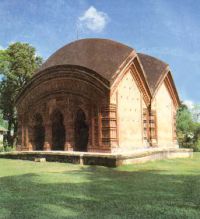 The temple sits is on a low height base made of bricks. The roof of the temple is constructed following the style of the traditional pitch-roofed houses. Two pitched-roofs are joined together, which makes the middle portion higher than the ends, as it slopes down toward the ends in the north and in the south. There is a verandah at the front of this west-acing temple.
The verandah has two columns, which make three entries to the temple. The construction of the columns and the walls near to the entries is similar to that of kantanagar temple at Dinajpur. Once the walls and the columns were ornamented with terracotta tiles. The temple was very badly damaged during the earthquake in 1897.
Although there is no inscription, according to the local people's opinions, this temple was built by Brajmohan Krori, the Tahsildar of the Nawab of murshidabad sometime in the middle of eighteenth century AD. [Nasrin Akhter]