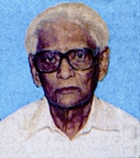 Kabir, Ahmadul (1923-2003) journalist, entrepreneur and politician. Ahmadul Kabir was born on 3 February 1923 in a zamindar family of Ghorashal in Palash upazila of Narsingdi district. After graduating in Economics (Hons) from Dhaka University Ahmadul Kabir joined the Reserve Bank of India, where he later served as chief of the East Pakistan Foreign Exchange Department. In January 1954, Ahmadul Kabir left the government job and took to business. He was the founder director of the Eastern Mercantile Bank and the IFIC Bank. Notable among the industries established by him included the Essential Industries, Vita Cola, and Bengal Beverage Company.
Alongside business, Ahmadul Kabir pursued journalism. He worked with the daily sangbad from its very inception. He served as its editor since 1972, became the chief editor in 2001 and worked with it till his death.
Ahmadul Kabir was a student leader while studying at Dhaka University. He was elected vice-president of Dhaka University Central Students Union (DUCSU) in 1945-1946. In 1942-1943, he was elected sports secretary of the Salimullah Muslim Hall Union of Dhaka University.
Ahmadul Kabir was elected member of the East Pakistan Legislative Assembly in 1965. For his active role in support of the movement for autonomy of East Pakistan, he was arrested in 1971, and had to close the office of the daily Sangbad. The publication of the daily was resumed after the liberation of Bangladesh.
Ahmadul Kabir was elected member of the Bangladesh Jatiya Sangsad as an independent candidate from Narsingdi constituency for two terms, first in 1979 and later in 1986. He was a central leader of National Awami Party (NAP) of the then Pakistan. Ahmadul Kabir was treasurer of the Krishak Samiti for a long time. Later, he became the founder president of the Ganatanri Party formed in 1990. He served as the chairman of Bangladesh unit of the Commonwealth Press Union. As chairman of the Commonwealth Press Union Ahmadul Kabir took part in many international seminars including the ones held in Bahama, Hong Kong and Glasgow. He was a member of the Governing and Trustee Board of the Independent University of Bangladesh.
Ahmadul Kabir died in Dhaka on 24 November 2003. [Sambaru Chandra Mohanta]