Kadam Sharif, Murshidabad
Kadam Sharif, Murshidabad is a cluster of buildings situated about half a kilometre south of Katra Mosque and 800 metres east of Murshidabad Railway station. The earliest building in the complex is a mosque built in 1780-81 by Basant Ali Khan, who was the chief eunuch of mir jafar and subsequently of his wife munni begum.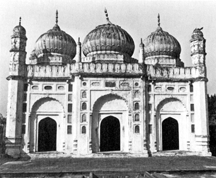 Another important edifice in this complex is the shrine, constructed eight years later in 1788, which used to contain the stone impression of the Prophet's (Sm) footprint. The footprint was brought from the kadam rasul at gaur by sirajuddaula and was subsequently returned to its original place by Mir Jafar. However, the enclosure contains a number of family graves of the nawabs, a guesthouse and some other structural remains.
Like some other mosques of murshidabad, Qadam Sharif is also roofed over by three domes, which are ribbed and bulbous in appearance. Decorated with lotus petals at their base and having constricted necks, the domes rest on octagonal drums that rise quite high above the parapet level. Four octagonal corner towers are capped by cupolas with mouldings along their shaft above the roof level.
The eastern wall of the mosque contains three pointed doorways framed within engrailed arched openings. The qibla wall inside contains three cusped mihrabs, of which the central one is larger than the other two. Except for the cartouche motifs on the frieze and niche motifs alongside the vertical panels of the arches, the facade is very simple in treatment, and reminiscent of the Motijheel Mosque, also in Murshidabad, but built earlier in 1749-50 AD. The portal on the east is projected from its flanking bays with guldastas on its either corners and bears an inscription fixed in the centre of the frieze that records 1194 AH / 1780-81 as the date of its construction.  
Opposite the mosque is the shrine housing the footprint of the Prophet (Sm); its interior plan is almost identical with that of the Qadam Rasul at Gaur. The footprint-stone now preserved in this relic chamber is an imitation of the original one. The square chamber inside is surrounded by a ten feet wide covered verandah on its four sides and fitted with jalis for ventilation. The sanctum is entered through five arched entrance doors on the south supported on moulded piers while a small bulbous dome covers the otherwise low flat-roofed structure. The inscription of Sultan Nasiruddin nusrat shah dated 936 AH/1529-30 AD affixed at the back of the shrine apparently has nothing to do with the entire complex. It is of much earlier date and could have been brought from Gaur or some other neighbouring places of Murshidabad.
Attached to the south wall of the mosque there is a small room which is usually kept locked. Eight pieces of stone inscriptions are found affixed on the southern wall of the room. These Arabic-Persian inscriptions contain verses from the Holy quran and were probably brought from the ruins of Gaur and Pandua or somewhere else. Three of them represent Ayat-ul-Kursi written in Naskh. [Sutapa Sinha]