Kamalapur Dharmarajika Bauddha Vihara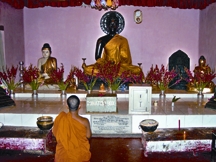 Kamalapur Dharmarajika Bauddha Vihara the first Buddhist vihara (monastery) in dhaka, was established in 1960 at the initiative of bishuddhananda mahathera. It acts as the cultural and regional centre of Bangladeshi Buddhists. For over four decades it has been the religious centre for both local and foreign Buddhists living in Dhaka. The Dharmarajik Pali College was established here in 1960.
The first foreign head of state to visit the vihara was King Bhumibol of Thailand who visited it along with his wife, Queen Sirikit, in 1962. On the occasion of their visit, a large prayer hall, named after atish dipankar srijnan, was built at the vihara.
Subsequently, several dignitaries from home and abroad, and professing different religions, have visited this centre. The vihara has a large collection of Buddha statues. Among them are a massive, 10' high, bronze statue given in 1984 by Thailand and another golden statue, 2'-8" high, given by Japan.
During the Liberation War in 1971 many men, women and children, irrespective of religion, were given shelter at the vihara. After liberation, the Dharmarajik Orphanage was established for the children affected by the war. The Dharmarajik High School was established in 1972, Dharmarajik Technical School and Dharmarajik Kindergarten in 1993, Dharmarajik Fine Arts Academy in 1995, Dharmarajik Literary Society and Dharmarajik Nikkiuniyano Clinic in 1996.
In 1996 the Dharmarajik International Prayer Hall was opened at the vihara by Prime Minister sheikh hasina. [Sukomal Barua]