Kamrangirchar Thana (Dhaka metropolitan) area 3.63 sq km, located in between 23°42' and 23°43' north latitudes and in between 90°21' and 90°23' east longitudes. It is bounded by hazaribagh and lalbagh thanas on the north, Lalbagh and chawkbazar model thanas on the east, keraniganj upazila on the south and west.
Population Total 143208; male 76325, female 66883; Muslim 142676, Hindu 480, Buddhist 20, Christian 21 and others 11.
Water bodies Main river: buriganga.
Administration Kamrangir Char Thana was formed in 1998 consisting parts of Lalbagh thana.
Thana
Ward
Mohalla
Population
Density (per sq km)
Literacy rate (%)
Urban
Rural
Urban
Rural

1

12

-

143208

39452

38.46
Ward
Name number of Ward
Area (sq km)
Population
Literacy rate (%)
Male
Female

Sultanganj Union 51

3.63

76325

66883

38.46
Source Bangladesh Population Census 2001,  Bangladesh Bureau of Statistics.
Archaeological heritage and relics Buddhist Math.
Religious institutions Mosque 19, temple 2, church 1, sacred place 2, buddhist math 4. Noted religious institutions: Matobbar Bazar Bara Mosque, Nurbagh Tara Mosque, Baragram Jami Mosque.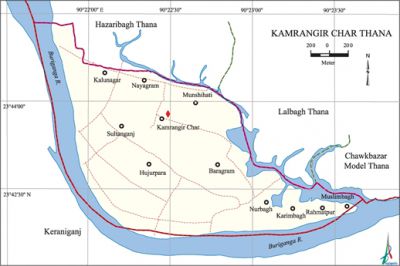 Literacy rate and educational institutions Average literacy 42.84%; male 46.65%, female 38.46%. Educational institutions:' college 1, secondary school 3, primary school 7, NGO school 5, english medium school 1, madrasa 11. Noted educational institutions: Hazi Abdul Awal College, Asharfabad High School, Kamrangirchar Govt. Primary School, Badsha Mian Primary School.
Cultural organisations Club, cinema hall, playground.
Main sources of income Agriculture 1.20%,' non-agricultural labourer 3.62%, industry 4.98%, commerce 26.88%, transport and communication 18.74%, service 17.64%, construction 5.27%, religious service 0.25%,, rent and remittance 1.65% and others 19.77%.
Ownership of agricultural land Landowner 32.54%, landless 67.46%.
Main crops Vegetables.
Extinct or nearly extinct crops Paddy, corn, potato.
Main fruits Mango, jackfruit, papaya, coconut, banana.
Communication facilities Total roads: 10.49 km.
Extinct or nearly extinct Traditional transport Palanquin, horse carriage and bullock cart.
Noted manufactories Garments industry, stationary industry, plastic factory, ice cream factory.
Cottage industries Weaving, potteries.
Hats, bazars and shopping centres Hats, bazars are 8 and market 5, most noted of which are Matobbar Bazar, Abu Sayeed Bazar, Rony Market.
Main exports Readymade garments, potteries.
Access to electricity All the unions of the thana are under electricity network; however, 96.25% dwelling households have access to electricity.
Sources of drinking water Tube-well 96.31%, pond 0.08%, tap 2.92% and others 0.68%.
Sanitation 55.10% of dwelling households of the thana use sanitary latrines and 44.23% of dwelling households use non-sanitary latrines; 0.67% of households do not have latrine facilities.
Health centres Satellite clinic 1, clinic 4. Sabuj Chata and River Site Hospital are notable.
NGO activities asa, brac, proshika, IRC. [Md Tuhin Molla]
References Bangladesh Population Census 2001, Bangladesh Bureau of Statistics.