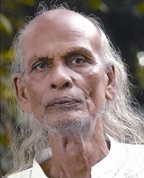 Karim, Shah Abdul (1916-2009) folksinger, lyricist, composer was born at Dhalasrom village of Derai upazila of Sunamganj district in 1916. His father Ibrahim Ali was an agriculturist.
Growing up in poverty and hardship, Karim started expressing his thoughts and emotions musically from very early age. Ektara, a traditional single string instrument has been his constant companion. At the age of 12 he studied for sometime in a night school at his own village. But he learned from nature.
Abdul Karim received training on spiritual and baul music only from Shah Ibrahim Mastan Baksh.  Abdul Karim once lost his voice through some virus infections and regained it after a couple of years and again he started his music and continued it till his death.
Some portion of one of his famous folk music is-
Ai desher durdoshar Kotha
Koite mone lage betha
Khorak bina yothatotha
Manush Mara yay.
Karim sang Baul, Jari, Sari, Palagan about Radha-Krishna.
He along with baul Kamaluddin performed folk-songs at different public meetings of the United Front electioning of 1954.'
Shah Abdul Karim wrote and composed over 1600 songs. bangla academy got ten of his songs translated into English. His most famous songs: 'Jil Mil Jil Mil Kore', 'Bonde Maya Lagaise', 'Ashi Bale Gelo Bondhu', 'Kano Piritee Barailarey Bandhu', 'Gari Cholena Cholena', 'Agey Ki Shundor Din Kataitam', 'Ami Tomar Koler Gari, Shokhi Kuvjo Shajao', 'Ailai Na Ailai Na', 'Bashonto Batashey', 'Krishvo Aila Radhar Kuvje'.
Abdul Karim's songs have been compile in six books such as 'Ganasabgit' (1954), Aftab Sabgit (1948), Kalnir Dhau (1981), Vhatir Chithi (1998), Dalamela (1990), Kalmir Kule (2001).
In recognition of his contributions to music, he was awarded Ekushey padak in 2001 and honoured 'Drauhee Kotha-shahityik' by Abdur Rouf Chowdhury in 2000. He died on 12 September 2009 in Sylhet. [Saymon Zakaria]