Karnafuli Fertiliser Company
Karnafuli Fertiliser Company (KAFCO) export-oriented ammonia/urea fertiliser complex, the first of its kind in the region. It is located in anwara upazila of chittagong district by the side of the karnafuli river occupying an area of 22.28 ha, employs nearly 600 people, most of whom live in the housing colony built 2 km from the plant on 6.48 ha of developed land.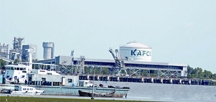 There are six other state-owned ammonia/urea fertiliser units in Bangladesh serving the domestic market. However, KAFCO is a joint venture multinational project. The idea of KAFCO was developed in late 1970s when the International Finance Corporation (IFC) began considering the possibility of promoting an export-oriented nitrogenous fertiliser complex in Bangladesh. At the core of the idea was the intention to derive the highest benefit from the country's abundant natural gas. The concept was discussed with the major international ammonia technology licensor and catalyst supplier Haldor Topsoe A/S (HTAS) and with Swedyards Development Corporation (SDC).
In July 1981, the Company was incorporated in Bangladesh. In December of the same year, a promoters' agreement was signed in Washington DC between the Government of Bangladesh, SDC, and HTAS. IFC pledged to provide a major portion of the financial support. As the project was developed further, the idea of a barge-mounted plant was abandoned and SDC's interests were taken over by HTAS. The project struggled to find finance until Japan showed interest in participating the venture. The project then gained momentum and various agencies soon came forward to become core investors. These included Bangladesh Chemical Industries Corporation (BCIC) on behalf of the government of Bangladesh; the Overseas Economic Cooperation Fund, Marubeni Corporation, and Chiyoda Corporation of Japan; Haldor Topsoe A/S and Industrialisation Fund for Developing Countries (IFU) of Denmark; Stamicarbon bv of Holland, and Commonwealth Development Corporation (CDC). The core investor group later became shareholders in KAFCO and participated in the promotion, financing, design, engineering, supply, construction, marketing of products, and in rendering of technical and operational services.
The effective date of contract for the project was 30 November 1990 and the mechanical completion was on 16 November 1994. Production of Ammonia and Urea began on 15 December and 27 December 1994 respectively.
A 1,500-MT/day low energy ammonia plant using Topose technology is being used for ammonia production. The plant has its own 20,000 MT storage facility and is fully equipped for the export of anhydrous ammonia (500 MT/hour) from its own jetty, which can handle refrigerated ammonia carriers of up to 20,000 DWT.
The Urea plant is equipped with an 80,000 MT bulk storage facility while there is a bag manufacturing as well as a bagging plant that incorporates bagged as well as bulk product handling facilities within KAFCO's own urea loading jetty, capable of handling 30,000 DWT vessels.
KAFCO is operating its plant consistently, with minimal interruption, at rates well above the original design. Currently KAFCO is capable of producing 2000 MT of Urea and 1600 MT of ammonia per day. Thus the annual urea production rate is 14% above the original design level. KAFCO has proven excellent performance for the past 5 years, both technically and financially. Its established infrastructure could significantly speed additional domestically produced urea supply to the country. [Sifatul Quader Chowdhury]