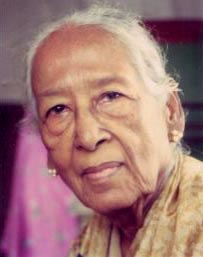 Kazi, Zohra Begum (1912-2007) Dr. Zohra Begum Kazi, the first Bangali Muslim woman physician, was born of an enlightened family at Rajnangaon in the United Province, India on 15 October 1912. Her father Dr. Kazi Abdus Sattar, a renowned political personality hailed from the Kazi family of Gopalpur in Kalkini upazila of Madaripur district. A brilliant student from her childhood Zohra Begum Kazi used to secure the first position in all the public examinations. Finally she got the MBBS degree from the Delhi Harding Medical College for Women in 1935. For topping the list in the first class she was awarded the Viceroy's Medal.
Dr. Zohra Begum Kazi started her service career at the 'Sebashram' of Mahatma Gandhi. Later on she worked in different hospitals of British India until her migration to East Pakistan in 1947. Dr. Zohra Begum Kazi was married to Razuuddin  Bhuiyan MP, the only son of the zamindar of Hatirdia in Raipur upazila of the district of Narsingdi.
The next stage of her distinguished career commenced in 1948 when she joined the dhaka medical college and hospital which was still lacking in the Department of  Obstetrics and  Gynecology. Dr. Zohra Kazi took initiative in founding the Department of Obstetrics and Gynecology to mitigate the sufferings of the female patients who were not keen to seek outdoor treatment  from the  male doctors. To expand the medical facilities to the generality she also took initiative in founding the   Obstetrics and Gynecology department at the Mitford Medical College and Hospital, Dhaka. To get advanced training, Dr. Zohra Kazi was offered a scholarship in 1955 to go abroad for higher training. She returned obtaining the DRCOG, FCPS, FRCOG and MRCOG degrees from the UK, and joined the Dhaka Medical College And Hospital as Professor and Head of the Department. She was also attached to the Holy Family Red Crescent Hospital and the Combined Military Hospital as a senior Consultant.  
Though born and brought up outside Bengal, her ancestral homeland, she could read write and speak Bengali fluently apart from Hindi, Urdu and Arabic. She was actively involved in Language Movement (1952).
Because of her long selfless service to the cause of humanity, Dr. Zohra Begum Kazi was awarded the Tamgha-e-Pakistan (1964), Begum Rokeya Padak (2002) and Ekushay Padak (2008).
Dr. Zohra Begum Kazi died on 7 November 2007.  [Shirin Akhtar]