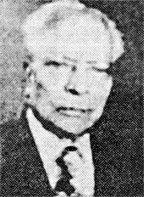 Khan, Abdus Sabur (1908-1982) politician. Abdus Sabur Khan was born in Khulna on 10 October 1908. His father Nazmul Hossain Khan was a lawyer. He matriculated from Khulna Zila School (1929), passed Intermediate examination (1931) from Calcutta Presidency College, and obtained graduation from Calcutta City College in 1933.
Sabur Khan embarked on his political career by joining Krishak Praja Party in 1937. He joined All India Muslim League in the same year, and was elected joint secretary of Bengal Provincial Muslim League in 1938. In 1946 he was elected a member of the Bengal Legislative Assembly as a Muslim League candidate. He was publicity secretary of the East Pakistan muslim league. Sabur Khan was elected a member of Pakistan National Assembly under the basic democracy system in 1962 and was included in the central cabinet of mohammad ayub khan as Communication Minister.
He directly opposed the six-point programme of Bangabandhu sheikh mujibur rahman and was an antagonist to the Bangali nationalist movement. In 1971, he launched propagation against the War of Liberation of Bangladesh.
After liberation, he was arrested in 1972 for his alleged collaboration with the Pakistan occupation army, but was released under the general amnesty declared by the government of Bangabandhu. He revived Muslim League in 1976 and was elected president of the party. In the general election of 1979 he was elected a member of Jatiya Sangsad from three constituencies of Khulna, and was elected leader of Muslim League Parliamentary Party. He remained a bachelor all his life. He founded a public welfare trust and donated all his movable and immovable property to the trust before he died on 25 January 1982. [Md Azom Baig]