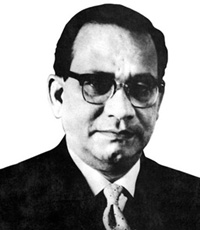 Khan, Abul Kashem (1905 -1991) jurist, public leader and industrialist. Abul Kashem Khan (popularly known as AK Khan) came of an old family of Chittagong. He was born in Village Mohara within Panchlaish (now Candgaon) Thana. Abul Kashem Khan's family clamis its pedegree from Hamza Khan, supposedly a noble of gaur in the 16th century. His father Abdul Latif Khan was a petty government officer (a sub-registrar at Fatehabad, Chittagong). Gifted academically, AK Khan secured first divisions and first classes in all public examinations from Matriculation to MA including BL. He obtained BA (Hons) and MA degrees in English from the Presidency College. Khan joined Calcutta High Court as an advocate in 1934.
Like most academically bright people of his time, he also competed in Bengal Civil Service in 1935 and got selection in the judicial branch of the Civil Service. Joining as a Munsif in 1935 AK Khan worked as a member of the Bengal Civil Service upto 1944 when he resigned and chose to make a career in business enterprises. In leaving the coveted civil service he was possibly influenced by his father-in-law, Abdul Bari Chowdhury, a Rangoon-based business magnet.
In his entrepreneurial career his father-in-law ostensibly favoured AK Khan initially, but he brought into his new career innovation and glamour by applying his own intellectual ingenuity and civil service experience.
He brought variety and rapid expansion into his industrial enterprises by setting up in succession new industries, such as, a match factory, a ply wood factory, a cotton textile mill, a navigation company (Pakistan National Steamship Company), a dockyard and engineering and so on. Khan soon became a nationally famous business entrepreneur and industrialist. In fact, he is regarded as the first large-scale modern industrialist among the Muslims of Eastern Bengal.
With his intellectual, bureaucratic and entrepreneurial background AK Khan finally entered public life with equal credit and success. In 1946, he was elected a member of the Constituent Assembly of India as a Muslim League candidate. After the Partition of India he was a member of the Pakistan Constituent Assembly. In Parliament he tried to ventilate in clear terms his ideas of governance of the new state of Pakistan. His speeches in Parliament indicate his patriotic role that he played there for Pakistan and for his own province - East Bengal. His learning, wisdom and foresight are evident in his parliamentary speeches. He was of the view that Pakistan would survive and thrive not on empty promises but on building a just, balanced and equitably shared economy for both the wings of Pakistan. It was the responsibility of Central Government mainly, according to him, which was to perform that task. Participating in the budget bill of 1951-52, AK Khan observed (24 March 1951):
Sir, I cannot help' [a] remark ' which I hope will not be misinterpreted as an indication of petty provincial-mindedness. Sir, these are the days of decentralisation and regional self-sufficiency. We find that in this six-year plan, the total sum allocated to East Bengal where 56 percent of your people live is less than 23 percent. Under the head 'Agriculture', provision has been made for 82 crores and a sum total of all the projects envisaged for East Bengal is only 5.6 crores. Under the head 'Development of Hydro-Electric Power', a provision for 45 crores has been made and the share of East Bengal is only 5 crores. Under the head 'Industries', provision has been made for textile industries' [for West Pakistan] to the tune of 30 crores and the provision for jute industry' [for East Bengal] is only 11 crores. Now, Sir, this gives a clear indication that not only in the past, not only in the present, but in the future development plans of the country, East Bengal is not expected to get its legitimate share. May I ask what is the reasonFoodgrain ' Is it due to the unfortunate situation of East Bengal being hardly represented in the Central Secretariat and, probably, not at all represented in the Ministry of Economic Affairs ' East Bengal has been providing for the last four years 80 percent of your foreign exchange... Now, Sir we have been spending about 80 crores of rupees on the defence of our country and hardly more than 2 crores is spent on East Bengal ' The recent conspiracy among the high military officers has demonstrated clearly that it is wrong and dangerous to rely unduly on one particular province' [Punjab] for the defence of our country. We' [the Banglais] are only asking for facilities. Our people are most anxious to take their legitimate share in the defence of the country. We have relieved the white man of his burden (the colonial white masters used to boast that they were there in India to civilize the Indians) and we are' [now] only too ready to relieve the proportionate burden of our brethren who claim that they are defending us' Sir, if you want to build Pakistan on sure foundations those foundations must be laid with justice having regard to every part of the country. There should be equal opportunity for everybody and fair chance for everybody whether he is a Bengali, a Baluch, Sindhi or a Punjabi'.
AK Khan's views well foreshadowed the future disparity issue and the question of provincial autonomy. He was unhappy, however, about the turns and twists of politics, nationally and provincially, after the elections of 1954 and thus he, being utterly frustrated, retired from politics and concentrated on businesses and industries again. But shortly he made a comeback to limited politics during early part of Ayub regime. He held, from 1958 to 1962, the portfolio of 'Industries, Works, Irrigation, Power and Mineral Resources'. However, on constitutional and regional issues he parted with Ayub Khan and represented his constituency as an opposition member in the Pakistan National Assembly from 1962 to 1964. He left politics forever after the Indo-Pak War of 1965 and remained confined to circles of family and friends until he died on 31 March 1991. His public life activities indicate that he was seriously committed to enterprise. He was a charitable and philanthropic person. On the eve of his death he bequeathed, according to family sources, 30 percent of the profits of his businesses and industries for the service of religion, health and education. [Sirajul Islam]