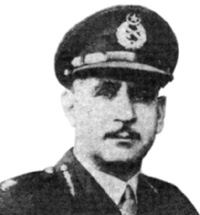 Khan, General Tikka (1915-2002) commander of the Eastern Command of the Pakistan Army. He was known as the 'Butcher of Bangladesh' for carrying out a ruthless and vicious military crackdown in Dhaka in 1971 to suppress the liberation movement in Bangladesh.
Tikka Khan was born at village Jochha Mamdot of Kahuta tehsil in the Punjab in 1915. A graduate from the Indian Military Academy, Dehradun, he was commissioned in 1939. He fought in the Second World War in Burma and the Sahara, and returned to the Military Academy as an instructor in 1946. After the partition of India (1947), he joined the Pakistan Military Academy as an instructor. After graduation from Quetta's Command and Staff College in 1949 he was made commander of an artillery regiment. He was promoted to the rank of Major General in 1962, made Lieutenant General in 1969.
During the war of liberation of Bangladesh, Tikka Khan was relieved of the Eastern Command. After the emergence Bangladesh in 1971, the then Prime Minister of Pakistan Zulfiqar Ali Bhutto elevated him to the rank of General and made him the army chief on 3 March 1972. The appointment was seen as a sign of Bhutto's willingness to use force against his opponents within the country. Tikka Khan's first task was to crack down on the people of Baluchistan, and hence he was known as 'Butcher of Beluchistan'.
Following his retirement from the army in 1974, Tikka Khan joined the Pakistan People's Party in 1976 and became Special Assistant on national security to Zulfiqar Ali Bhutto. Afterwards he was made Defence Minister. During her first tenure as Prime Minister, Benazir Bhutto made Tikka Khan the governor of the Punjab province in 1988. General Tikka Khan died on 28 March 2002. [Helal Uddin Ahmed]