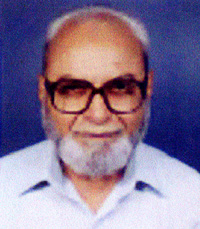 Khan, Md Salar (1924-2002) scientist and plant taxonomist. He was born on 2 March 1924 in the village of Kakinada, Andhra Pradesh, India. He obtained the MSc degree in Botany from the Aligarh Muslim University in 1947.
He joined the Dhaka University as a Lecturer in the then Department of Biology in 1950 and served the department up to 1991 as a Senior Lecturer, Reader/ Associate Professor, Professor and Supernumerary Teacher. He carried out his doctoral research in plant taxonomy of angiosperm and was awarded a PhD degree by the University of Edinburgh, UK in 1962. While in the UK Professor Khan also took part in the Oxford University Expedition to study and collect plants from the mountainous parts of the western Turkey.
Professor Khan was the pioneer in studying the angiospermic flora of Bangladesh from all parts of the country and was instrumental in establishing the Bangladesh National Herbarium.
These activities ultimately led to the publications of the flora of Bangladesh series (now 53), aquatic plants of Bangladesh, red data book on Bangladesh, ethnobotanical studies, studies on the medicinal and poisonous plants, weeds of the cultivated fields, and various other aspects in relation to social homestead forestry, biodiversity and strategies for conservation of genetic resources, etc. He has more than 150 publications to his credit where he described 19 new angiosperm species from home and abroad.
Professor Khan, as an expert, served as National Coordinator, Biological Diversity and Genetic Resources Project, Commonwealth Sciences Council and National Conservation Strategy, and as a member of the species Survival Commissions of the IUCN-the World Conservation Union.
Professor Khan was the President of the Bangladesh Botanical Society from 1993-94, Bangladesh National Biodiversity Group (1997-till death) and the founder President of the Bangladesh Association of Plant Taxonomists (1992-till death). In honour of his outstanding contributions in the field of angiosperms taxonomy, the Bangladesh Botanical Society honoured him by electing Honorary Fellow of the Society on 21 September 2002. Professor Md Salar Khan died in Dhaka on 20 September 2002. [Sifatul Quader Chowdhury]