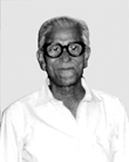 Khan, Mustafizur Rahman (1910-1996) Social worker and a leader of the insurance industry. Mustafizur Rahman Khan was born on 10 June 1910 in Dhaka. He was the second son of renowned deputy magistrate matiur rahman khan of village Paril under Manikganj district. His education started in a Maktab.
He participated in the anti-British movement during his student life. He joined the revolutionary organisation 'Anushilan Samity', which was imbued with the mantra of achieving independence through armed revolution; later, he joined the jugantar party. He was an active worker in the anti-British movement in Chittagong.
His professional career started as a journalist working for different periodicals of East Kolkata. Then, he started his career as an insurance professional in 1950. Life insurance was then ignored by the Muslim community on religious grounds. He adopted various strategies for popularising life insurance, such as through insurance marketing in towns and villages, providing safety net through insurance and organising wide publicity on the issue. Because of huge successes of these programmes, Mustafizur Rahman Khan became a great personality in the insurance arena and got big responsibilities from insurance companies one after another.
These included Eastern Federal Insurance Company, East Pakistan Cooperative Insurance Society, Pakistan Insurance Corporation, Life Insurance, Cooperative Bank of India, Karnaphuli Insurance Corporation and Bangladesh General Insurance Company. He played a leading role in establishing the profession and industry of insurance as a honourable entity in the then East Pakistan and later independent Bangladesh remaining engaged in this profession for long 68 years.
He lived permanently in Dhaka from 1947. Though an insurance man, Khan maintained interactions with people of other professions, especially teaching profession. His house at Swamibagh was the meeting place for poets, litterateurs, politicians, journalists and cultural workers of various parties, opinions and ages. The house was raided by the Pakistani junta more than once. During the nine months of liberation war, he extended cooperation and assistance to the war efforts while remaining in Dhaka. He played an important role in setting up different educational institutions of Dhaka city. He had a life-long attachment with the dhaka university. He was a part-time teacher and examiner of the commerce faculty of Dhaka University for a long time. He enriched the university through his intellect and vision as member of its senate. He and his family established 'Matiur Rahman Khan Trust Fund' (named after his father) and 'Salekunnesa Gold Medal' (named after his mother) in Dhaka University. He was a life member of Bangla Academy and Asiatic Society and was involved with these institutions until his death. He founded the 'Saleha Khanam Trust Fund' (named after his wife) in the Asiatic Society of Bangladesh in 1986. Besides, he was also connected with different service-oriented organisations. For example, he was an active life member of the Red Cross Society. He passed away in Dhaka on 7 January 1996. [Mahfuza Khanam]