Khandakartala Mosque is situated less than half a kilometre to the west of the kherua mosque (1582) at Sherpur in Bogra. It is now in a ruinous condition. All the four octagonal corner towers have disappeared, the domed roof has crumbled, the outer surface of the east wall is broken in places and the western wall hidden under debris. Roofed with corrugated iron sheets the mosque is now being used for both Friday and daily prayers by the people of the locality.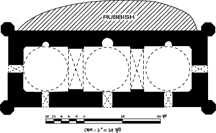 Built of brick, the mosque forms a vast rectangle measuring 23.77m × 9.30m on the outside and 20.12m × 5.64m on the inside. The interior of the mosque could be entered through arched doorways - three in the east and one each on the north and south sides.
The western wall is internally recessed with three semi-circular mihrab niches which correspond to the central archways. The central archway and the central mihrab were originally given prominence by outward projections, which were further emphasised with flanking ornamental minarets.
The interior, forming a single rectangular hall, was divided into three equal square bays by wide arches, traces of which are still noticeable on the east and west walls. The three domes, one over each bay, have fallen down. The cornices, now disappeared, were originally curved in the Bengali fashion. The outer and inner surface of the walls including the three mihrabs was adorned with elaborate terracotta ornamentation, but is now covered with cement plaster.
In plan and in many of its constructional and decorative aspects the building seems to be a reproduction of the nearby Kherua Mosque. But the building deserves special mention because of the prominence of its central archway with its flanking minarets, hitherto unknown in Bengal. From now onwards this particular feature, perhaps directly derived from north Indian mosque architecture, started appearing very frequently in Bengal mosques.
An inscription tablet discovered in this building records its construction by one Muazzam Khan in 1632 AD. [MA Bari]