Khansama Upazila (dinajpur district) area 179.72 sq km, located in between 25°47' and 26°01' north latitudes and in between 88°42' and 88°51' east longitudes. It is bounded by debiganj and nilphamari sadar upazilas on the north, chirirbandar and dinajpur sadar upazilas on the south, Nilphamari Sadar upazila on the east, kaharole and birganj upazilas on the west.
Population Total 150792; male 77539, female 73253; Muslim 107388, Hindu 42911, Buddhist 262 and others 231. Indigenous community such as santal belongs to this upazila.
Water bodies Main rivers: atrai, little jamuna, karatoya.
Administration Khansama Thana was formed in 1891 and it was turned into an upazila in 1983.
Upazila
Municipality
Union
Mouza
Village
Population
Density (per sq km)
Literacy rate (%)
Urban
Rural
Urban
Rural

-

6

57

57

8244

142548

839

43.6

38.6
Upazila Town

Area (sq km)

Mouza

Population

Density (per sq km)

Literacy rate (%)

7.75

1

8244

1064

43.6
Union
Name of union and GO code
Area (acre)
Population
Literacy rate (%)
Male
Female

Angarpara 31

6864

12564

11704

37.05

Alokjhari 15

8354

15162

14485

38.64

Khamarpara 94

7433

12615

11524

42.18

Goaldihi 79

7559

12410

11939

37.27

Bhabki 47

7052

12519

12060

38.29

Bherbheri 63

7248

12269

11541

39.69
Source Bangladesh Population Census 2001, Bangladesh Bureau of Statistics.
Archaeological heritage and relics Awkar Mosque (1178 AD), tomb of Chehel Gazi, tomb of' Nalbari.
History of the War of Liberation In 1971 two freedom fighters were killed in an encounter with the Pak soldiers in Khansama upazila. Another battle was fought between the freedom fighters and the Pak army at the foot of Ghatmara bridge with heavy casualties on both the sides. Subedar Majid was also killed in this battle. This upazila was liberated on 14 December.
Marks of the War of Liberation Memorial monument 1.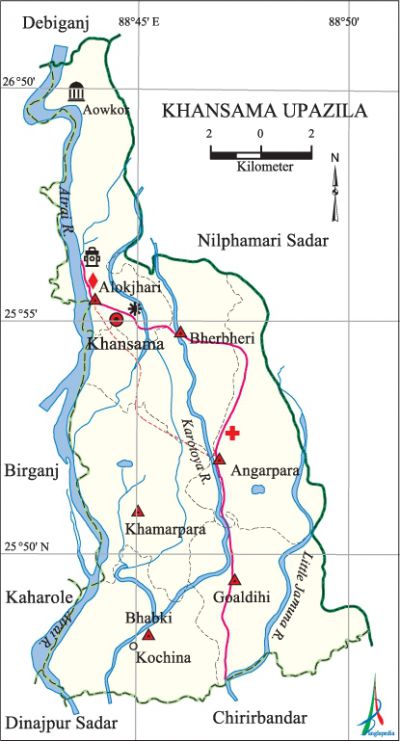 Literacy rate and educational institutions Average literacy 23.2%; male 32.4%, female 13.6%. Educational institutions: college 11, secondary school 63, primary school 129, madrasa 26. Noted educational institutions: Khansama Degree College, Khansama Mahila College, Kachinia High School and College (1967), Jamir Uddin Shah Girls' High School and College' (1983), New Pakerhat High School (1959), Alokjhari High School (1962), Angarpara High School (1963), Akbar Ali Shah High School (1988), Khansama Bilateral Fazil Madrasa.
Newspapers and periodicals Weekly: Follow-up.
Cultural organisations Library 1, club 23, cinema hall 1, jatra party 1, women's organisation 5.
Main sources of income Agriculture 74.48%, non-agricultural labourer 4.57%, commerce 9.43%, transport and communication 2.05%, service 3.89%, construction 0.74%, religious service 0.14%, rent and remittance 0.14% and others 4.56%.
Ownership of agricultural land Landowner 48.78%, landless 51.22%; agricultural landowner: urban 40% and rural 49.30%.'
Main crops Paddy, wheat, sugarcane, potato, maize.
Extinct or nearly extinct crops Mustard, jute, kaun.
Main fruits Watermelon, mango, banana, jackfruit, litchi.
Fisheries, dairies and poultries This upazila has a number of fisheries, dairies, poultries and hatcheries.
Noted manufactories Oil mill, rice mill, ice factory, biscuit factory.
Cottage industries Goldsmith, blacksmith, weaving, potteries, wood work.
Hats, bazars and fairs Hats and bazars are 15, most noted of which are Khansama, Kachina and Ramkala hats.
Main exports Watermelon and banana.
Access to electricity All the unions of the upazila are under rural electrification net-work. However 10.42%' of the dwelling households have access to electricity.
Sources of drinking water Tube-well 89.87%, tap 0.23%, pond 0.23% and others 9.67%.
Sanitation 8.49% (rural 6.83% and urban 36.57%) of dwelling households of the upazila use sanitary latrines and 20.37% (rural 20.22% and urban 22.87%) of dwelling households use non-sanitary latrines; 71.14% of households do not have latrine facilities.
Health centres Upazila health complex 1, union health and family planning centre 5, satellite clinic 1.
NGO activities Operationally important NGOs are brac, asa, caritas. [Mamtajur Alam]
References Bangladesh Population Census 2001, Bangladesh Bureau of Statistics; Cultural survey report of Khansama Upazila 2007.