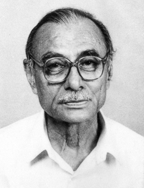 Kibria, Mohammad (1929-2011) Unique painter. Born in Birbhum, West Bengal on 1 January 1929. After completion of school education in 1945, he got himself admitted into Kolkata Art School (College of Arts and Crafts) and obtained BA Degree in Painting in 1950. He started to reside permanently in Dhaka from 1951 and joined as a drawing teacher in Nawabpur School. In 1954, he got appointed as a faculty member in Art Institute, Dhaka (presently Faculty of Fine Arts, University of Dhaka). In 1959, he received higher education in painting and printmaking in Japan. Mohammad Kibria served as a faculty member of Fine Arts Institute until 1987.
While the institute went under administrative control of University of Dhaka, he was appointed as a professor in the department of Print Making. In 1997, he retired from University of Dhaka officially. He was honored with the post of Professor Emeritus of Dhaka University in 2008, and he held this post until his death in 2011.
The artistic life of Mohammad Kibria comprises of several stages, which are marked by different dimensions in his artworks. For example, his paintings of the 70's titled 'Chhai'(Ashes) are notable to mention. Through the uses of cross shaped composition, rock-like solidity in square areas and the torn textures spread all over the paintings are significant. In the paintings of 80's the squares are transformed into uneven, unrestrained areas.
Juxtaposition of various colors such as red, blue, black, grey, green, brown to form different planes gives the canvas the shape of walls of a desolate landscape. From the middle of 90's white started to cover greater spaces in his canvas than other colors. Two of his paintings titled 'xironamhin', painted in 2000 and composed mostly of white space on the canvas, were elevated to a glorious level only by means of tactful use textures. Beside those pieces of torn paper, scorched cloth or rusty tin lose their physical characteristics and add a different dimension on the canvas in his artworks of 2002. In this period Kibria started to show his inclination towards minimization. He began to express his ideas by limiting the range of form, expanding the vastness of space, mobilizing the extent of textures and using earthly colors.
Mohammad Kibria relentlessly pursued for an abstract method of expressing the innermost tone of nature and the deepest feelings of human mind throughout his life. He died on 7 June 2011 at the age of 82. [Vadreshu Rita]