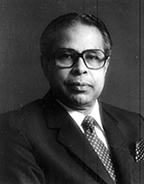 Kibria, Shah AMS (1931-2005) an economist, diplomat and politician. Shah Abu Muhammad Shamsul Kibria was born on 1 May 1931 at Habiganj. His father Shah Imtiaz Ali was a pioneer in promoting primary education in Sylhet region. Shamsul Kibria passed Matriculation examination in 1947 from Maulvi Bazar Government High School and Intermediate in 1949 from Sylhet Murari Chand College. He obtained his BA (Hons) degree in Economics in 1952 and MA in 1953 from Dhaka University. While a student of Dhaka University he joined the Language Movement in February 1952. He was arrested and was kept confined for a month and a half.
Shah A M S Kibria secured first position in the Pakistan Central Superior Service examination held in 1954 and joined the Foreign Service. He received training for diplomatic service at the Fletcher School of Law and Diplomacy in Boston, at British Foreign Office in London and completed French Language course in Paris. From 1957 to 1970 Shah Kibria served in Pakistan diplomatic missions in Calcutta, Cairo, UN mission, New York, Tehran and Jakarta. Later he worked in the Ministry of Foreign Affairs in Islamabad and in the Pakistan Embassy in Washington DC.  
During the War of Liberation of Bangladesh, Shah Kibria dissociated himself from the Pakistan Embassy in Washington on 4 August 1971 and declared allegiance to the mujibnagar government. He had active role in organizing a Bangladesh mission in Washington DC, and mobilizing public opinion in favour of the war of liberation. Kibria lobbied with the State Department of the Congress and senior columnists in Washington. He issued a bulletin to appraise the international community on the progress of the freedom fighters in war, and the condition of the people in occupied Bangladesh.
After the Liberation, A M S Kibria joined as Director General of the political affairs department in the Ministry of Foreign Affairs in January 1972 and became foreign secretary in March 1972. Between January 1973 and 1978 he was the High Commissioner to Australia, New Zealand and Fiji and the Permanent Representative of Bangladesh to the European office of the UN in Geneva. Kibria returned to Bangladesh as Foreign Secretary in 1978. At that time he drafted the initial concept paper for SAARC. In 1979, Kibria served as the elected chairman of the group of 77 preparatory committee for United Nations Conference on Trade and Development (UNCTAD) held in Manila. Shah Kibria remained as Foreign Secretary till 31 April 1981.
From May 1981 to March 1992, Kibria held the position of Executive Secretary of UN Economic and Social Commission for Asia and the Pacific (ESCAP) with the rank and status of Under Secretary-General of the United Nations. He had an' additional assignment of special representative of the UN Secretary-General for Cambodian Humanitarian Relief in 1986.
A M S Kibria joined Bangladesh Awami League in 1992. He was made a member of the advisory council of the party. In 1994, he was appointed Political Advisor to the Awami League President. Kibria joined the cabinet of Prime Minister Sheikh Hasina as Minister of Finance in 1996 to continue till 2001. Shah Kibria was elected a member of the Jatiya Sangsad in 2001 from Habiganj-3 constituency.
Shah Kibria's five year term as Finance Minister was marked by many policies like the introduction of old age and widows' pensions, a major expansion of small-scale agricultural credit, low-cost-housing schemes, youth employment programmes, and important reforms in the banking and financial sectors of Bangladesh. He took initiative in removing all import duties on IT accessories. He undertook the countercyclical policies to deal with the impact of the 1998 floods. Under his stewardship the economy experienced fast growth (led by agriculture) with a remarkable degree of price stability.
Shah Kibria was elected the chairman of Economic and Social Commission for Asia and the Pacific (ESCAP) in 1997, and the president of the Governing Council of International Fund for Agricultural Development (IFAD) in 1998. Kibria was the chairman of Bangladesh Foundation for Development Research, and alternate chairman of Bangladesh Institute of Law and International Affairs.
Shah Kibria used to write columns in national dailies addressing economic and political issues. He was the founder and editor of the Bangla weekly magazine Mridu Bhashan (softly spoken). He authored four books: Mridu-bhashan (1997), The Emerging New World Order (1999), Bangladesh at the Crossroads (1999) and Chitta Jetha Bhoyshunya (where the mind is without fear).
Shah AMS Kibria was assassinated on 27 January 2005 in a grenade attack in Habiganj.
Shah AMS Kibria was awarded posthumously the ICT Champion Award in 2010 for his role in allowing tax free import of IT accessories. [Urmee Hossain]