Kotwali Thana (Chittagong Metropolitan)
Kotwali Thana (Chittagong Metropolitan) area 7.68 sq km, located in between 22°19' and 22°22' north latitudes and in between 91°50' and 91°53' east longitudes. It is bounded by panchlaish thana on the north, karnafuli thana and karnafuli river on the south, bakalia and chandgaon thanas on the east, khulshi and double mooring thanas on the west.
Population 282975; male 165067, female 117908, Muslim 189997, Hindu 83415, Buddhist 2819, Christian 6462 and others 282.
Water bodies Karnafuli river and Chaktai Canal are notable.
Administration Kotwali Thana was established in 1922.
Thana
Ward
Mohalla
Population
Density (per sq km)
Literacy rate (%)
Urban
Rural
Urban
Rural

8+3 (part)

31

305224

-

31402

-

77.99
Ward
Name number of Ward
Area (sq km)
Population
Literacy rate (%)
Male
Female

Ward no. 15 (part)

1.69

18179

14471

77.30

Ward no. 16

2.04

25268

19934

84.40

Ward no. 20

0.44

17534

12827

82.00

Ward no. 21

0.78

18869

15641

79.20

Ward no. 22

0.80

18207

13703

74.70

Ward no. 30 (part)

0.78

16463

12953

60.1

Ward no. 31

0.75

10787

5390

85.60

Ward no. 32

0.77

16574

7009

79.10

Ward no. 33

0.55

14329

10556

77.10

Ward no. 34

0.86

16115

13434

77.30

Ward no. 35 (part)

0.26

5215

1766

81.19
Source Bangladesh Population Census- 2001, Bangladesh Bureau of Statistics.
Archaeological heritage and relics Andarkellah Jami Mosque (1666), Court Building, Laldighi Maidan, Civil Surgeon Office, Railway Building (CRB Bhaban).
Religious institutions Amanat Shah Mosque, Kadam Mubarak Mosque, Andarkellah Shahi Jami Mosque, Badar Shah Mazar, Shah Sundar Mazar, Chand Shah Mazar.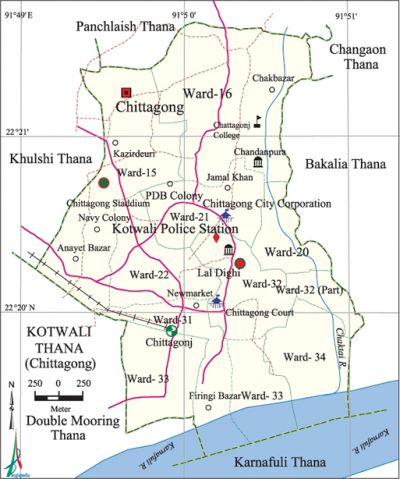 Literacy and educational institutions Average literacy 79.60%; male 82.80%, female 75.70%. Noted educational institutions: Chittagong Government College, Hazi Muhammad Mohsin Government College, Patharghata Mohila College, Aparnacharan High School, Khastgir Girls' School (1907), Krishna Kumari City Corporation Girls' High School (1927), JM Sen Multilateral High School (1913), Kajem Ali High School (1885), Collegiate School, Muslim High School, Municipal High School.
Newspapers and periodicals Daily Purbokone, Daily Azadi, Daily Karnafuli, Daily Life, Weekly Chattala, Anubikshan, Gano Adhikar and Purbo Bangla.
Noted establishments Portuguese Church, General' Post Office, Bangladesh Bank (Chittagong Branch), Fisheryghat, WASA Building, MA Aziz Stadium, Chittagong Club, zia memorial musium, Chittagong Circuit House, CDA Bhaban, Kalibari Temple, Purta Bhaban, Road and Railway Bhaban.
Main sources of income Agriculture 1.88%, non-agricultural labour 0.63%, industry 1.39%, commerce 32.59%, transport and communication 3.00%, construction 0.89%, religious service 0.19%, employment' 23.04%, rent and remittance 3.71% and others 32.68%.
Ownership of agricultural land Landowner' 50.87%, landless 49.13%.
Main fruits Mango, jackfruit, banana, etc.
Extinct or nearly extinct traditional transport Palanquin, horse carriage.
Noted manufactories Garments industry, re-rolling mill, edible oil mill, welding, etc.
Cottage industries Bamboo and cane works, wood works, iron works,' tailoring, etc.
Hats, bazars and fairs Reaz Uddin Bazar, Baksi Hat, Khatunganj Bazar, Asadganj Bazar and Baishakhi Mela at Laldighi Maidan are notable.
Main exports Ready-made garment products.
Access to electricity All the wards of the thana are under electricity network; however 95.85% dwelling households have access to electricity.
Sources of drinking water Tube-well 29.03%, pond 0.16%, tap 67.84% and others 2.97%.
Sanitation 89.11% of dwelling households use sanitary latrines and 9.21% of dwelling houses use non-sanitary latrines; 1.68% of dwelling houses do not have sanitation facilities. [Golam Kibria Bhuiyan]
References Bangladesh Population Census 2001, Bangladesh Bureau of Statistics.