Loknath Brahmachari (1730-1890) a Hindu yogi-ascetic from Barasat in West Bengal who had his ashram (monastery) at village Baradi in Narayanganj district.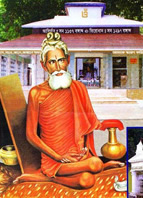 Loknath Brahmachari was born in 1730 AD at village Kachua (variantly Chakla) in Barasat thana of 24 Parganas district in West Bengal. He is reported to have been a disciple of the renowned yogi saint Bhagwan Ganguly of Kalighat since his early eleven, and soon emerged to have been a mendicant. After twenty five years of practice in sannyasa-brata as an itinerant mendicant, he repaired to the Himalayas for penance (yoga) and ultimately attained perfection (siddhi) in yoga practice.
He then transcended to the plains for preaching his yoga doctrine to the people. Loknath Brahmachari travelled through Afghanistan, Persia, Arabia, Palestine, China and Tibet and then came to Sonargaon in 1863 AD and established his ashram (monastery) at Baradi.
The spiritual philosophy and teachings of Loknath Brahmachari concerns perceiving the reflection of the Supreme Being (Brahma) in all created beings, eternity of soul (amar atma), attainment of perfection (siddhi) by understanding of the self, devotion (bhakti) and penance (yoga), doctrine of action (karma), and service to all created beings. The distinctive feature of his philosophy is his doctrine of action (karmabad), and enunciation of the welfare of the creatures as the highest human religion.
Loknath Brahmachari died in 1890 in his ashram at Baradi. The remains of his body is preserved in the ashram. His ashram had all through been a meeting place of the people from all walks of life. It has now been turned into a place of pilgrimage for the devotees of the Brahmachari. Every year lots of people from country and abroad come to visit the ashram to pay homage to the departed soul. A number of ashrams, named after Loknath Brahmachari, are maintained in different parts of Bangladesh and in West Bengal for the propagation of his teachings. [Muazzam Hussain Khan]