Mahathera, Bishuddhananda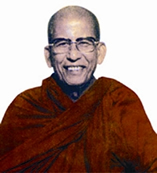 Mahathera, Bishuddhananda (1909-1994) Buddhist scholar and social worker, was born on 23 February 1909 in the village of Hoarapara in raozan upazila of chittagong district. His given name was Shashanka. He studied first at the local Noapara High School and then at Mahamuni Anglo Pali School. He was initiated into the Buddhist monastic order in 1925 and in 1930 took final vows. In 1934 he went to Sri Lanka to study buddhism. He received the degree of Shri Saddharmabhavaka in 1937. On return home, he became involved in various social, cultural, religious and educational activities. He established several viharas and pali colleges.
During the famine of 1943, he formed a relief committee in association with benimadhab barua, maniruzzaman islamabadi etc. Later he established Agrasar Anathalay, an orphanage for poor Buddhists at Sudarshan Vihara in Hoarapara. In 1949, he founded the East Pakistan Bauddha Kristi Prachar Sangha, at present the bangladesh bauddha kristi prachar sangha.
In 1948 the government made Bishuddhananda a member of the Buddhist scholarship committee. Around this time he introduced regular readings of the tripitaka over the radio. It is still continuing.
During the Bangladesh liberation war he helped save Buddhists by introducing special identity cards for them. In 1979 he was installed as Mahasangghanayak.
Bishuddhananda received several awards, among them the Tamgha-i-Pakistan, which he renounced at the time of the Bangladesh liberation war, and the MK Gandhi Peace Prize. He died on 2 March 1994 at Chittagong. His last rites were performed in January 1995, and he was buried at Sudarshan vihara at Hoarapara. [Sukomol Barua]