Majumdar, Hemendranath (1894-1948) painter. Hemendranath Majumdar was born in a village named Gachihata under Kishoreganj district. His father Durganath Majumdar was an officer of Atharabadi Zamindar Estate of Mymensingh. Since his childhood, Hemendranath had inclination towards pictorial art. When he was a student of tenth class he fled home, went to Calcutta and got himself admitted to the Government Art School there. Soon he was frustrated with the routine and discipline of the school and left it. He, however, did not give up painting and got himself admitted in the Jubilee Art School of Calcutta where he studied for about four years.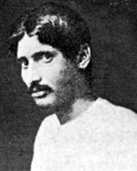 With much enthusiasm he began to participate in various art exhibitions throughout India and gained much repute. In 1921 he was awarded a gold medal for his painting Smrti and the same year he was awarded by Calcutta Society of Fine Art for his painting 'Pallipran'. When in 1922 and 1923 his paintings entitled Jhankar and Kardamay Kamal received awards in Madras and Bombay (Mumbai) respectively Hemendranath's fame as an artist spread far and wide.
During this period reproduction of his paintings were published in different Bengali Journals and Periodicals and he was acclaimed as a popular artists by the intelligentsia and art connoisseurs. His works had great demand among the rich people particularly zamindars.
Hemendranath's painting in western style made him famous. Several Rajas and Maharajas of India invited him to be a court artist. In 1931, the Maharaja of Kashmir invited him to his court. Later, he was appointed the court-painter of the Maharaja of Patiala for five years on a monthly salary of two thousand rupees. There he made a Partition Screen for the Maharaja by depicting three beautiful paintings on it. This was recognised as the best work of Hemendranath and is now housed in the personal art gallery of the Maharaja of Patiala.
During his stay at Patiala he painted many commissioned works of the Rajas of Jaipur, Jodhpur, Bikaner and others. Long before earning fame as an artist, Hemendranath played an important role in moulding the tradition of art appreciation. In 1919 he established an art association named Indian Society of Oriental Art and housed it at his 24 Beadon Street apartment in Calcutta (Kolkata). Artists Bhabanicharan Laha, Jogesh Chandra Shil, jamini roy, atul bose and others associated themselves with the organisation.
The association published a quarterly entitled The Indian Academy of Art in 1920. Before this venture, perhaps, no art journal of this stature was published from Calcutta. The association also published another art Journal entitled Shilpi. Hemendranath started working on a connoisseur's album named The Indian Masters where he collected representative works of eminent contemporary Indian artists.
He started writing on art criticism and instructions on painting and drawings. Unfortunately he could not complete his book entitled Chhabir Chashma (Spectacles on Paintings). This unfinished manuscript has recently been published in 1991 by the Ananda Publishers, Calcutta.
Hemendranath Majumdar undoubtedly carved out a niche among the Bangali artists of the late nineteenth and early twentieth centuries. Famous art-teacher Ranadagupta of Calcutta Art School was his mentor. Through the apprenticeship of this art-mentor Hemendranath learnt to work in western style of paintings through oil, watercolour, pastel and charcoal. He excelled in Subject Painting in oil and had no equal in that media. His paintings reached 'par-excellence' through selection of subject matter, his personal aptitude and refinement of colour and through mastery of his magical brush strokes.
Soon after 1947 Hemendranath participated in some of the 'All Indian Art Exhibitions' where his exquisite oil paintings received overwhelming acclamation. Among these oil paintings subjects like Fasal Kata (Reaping of Crops), Machh Dhara (Fishing) etc are noteworthy. He worked hard while transforming the big oil paintings from the small watercolour works of the above mentioned paintings. This meticulous and hard work for long months broke his health and he faced pre-mature death on 22 July 1948. [Najma Khan Majlis]