Mani, Sheikh Fazlul Haq (1939-1975) politician, journalist. Sheikh Fazlul Haq Mani was born on 4 December 1939 at village Tungipara in Gopalganj district. He passed SSC Examination from Nabakumar Institute of Dhaka in 1956, HSC from Jagannath College in 1958, and BA from Barisal BM College in 1960. He obtained MA degree in Bangla literature and Law degree in 1962 from the Dhaka University.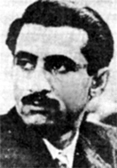 Political career of Sheikh Mani began during his student life. He was general secretary of Chhatra League from 1960 to 1963. Sheikh Mani was arrested in 1962 for leading the movement against the Hamoodur Rahman Education Commission Report, and was imprisoned for six months. He refused to receive the certificate from Monaem Khan, the then Chancellor of the Dhaka University and Governor of East Pakistan, in the convocation ceremony held in April 1964. He also led a campaign to abandon the convocation in protest against the education commission report. The University authority revoked his degree against which he went to the court, which gave the verdict in his favour.
Sheikh Mani was again arrested under Public Safety Act in 1965 and was kept confined for one and a half year. For his active role in the Six-point Movement in 1966 he was imprisoned. However, he was released during the Mass Upsurge in 1969.
On 11 January 1970, the Bangla weekly Banglar Bani was first published with Fazlul Haq Mani as its editor. During the War of Liberation he pioneered the formation of mujib bahini. As chief of the Bahini he led the force in its operation in the districts of Dhaka, Comilla, Noakhali, Sylhet, Chittagong, and Chittagong Hill Tracts.
After the liberation of the country the weekly Banglar Bani was converted to a daily and was published on 21 February 1972 with Sheikh Mani as its editor. He founded the Awami Yuba League on 11 November 1972 and was elected its chairman. He launched the weekly Cinema on 23 August 1973, and the English daily Bangladesh Times on 7 June 1974 of which he was the editor. He was one of the secretaries in the central committee of bangladesh krishak sramik awami league (BAKSAL).
A collection of his Bangla short stories entitled Britta was first published in 1969. Sheikh Mani was assassinated by a group of army personnel on 15 August 1975. [Dilruba Begum]