Manikchhari Upazila (khagrachhari district) area 168.35 sq km, located in between 22°41' and 22°55' north latitudes and in between 89°35' and 89°52' east longitudes. It is bounded by ramgarh upazila on the north, fatikchhari upazila on the south, lakshmichhari upazila on the east, Fatikchhari upazila on the west.
Population Total '50061; male 25906, female 24155; Muslim 32026, Hindu 5430, Buddhist 384, Christian 12105 and others 116.
Water bodies Main river: Dhurang.
Administration Manikchhari Thana was formed on 10 December 1980 and it was turned into an upazila 1985.
Upazila
Municipality
Union
Mouza
Village
Population
Density (per sq km)
Literacy rate (%)
Urban
Rural
Urban
Rural

-

2

11

146

27791

22270

297

47.7

40.7
Upazila Town

Area (sq km)

Mouza

Population

Density (per sq km)

Literacy rate (%)

75.11

1

27791

370

47.74
Union
Name of union and GO code
Area (acre)
Population
Literacy rate (%)
Male
Female

Batnatali 19




16000




6945




6753




39.51




Manikchhari 63




25600




18961




17402




46.53
Source  Bangladesh Population Census 2001, Bangladesh Bureau of Statistics.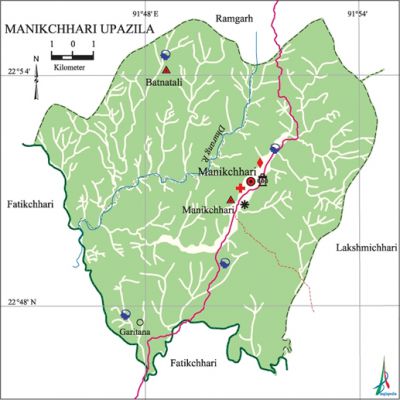 Archaeological heritage and relics Mung Rajbari, Sindukchhari Pond, Sundar Shah Tomb.
Literacy rate and educational institutions Average literacy 44.7%; male 52.6%, female 36.2%. Educational institutions: college 1, secondary school 2, primary school 50. Noted educational institutions: Rani Nihar Devi Government High School (1976).
Newspapers and periodicals Weekly: Chabuk.
Cultural organisations Library 1, cinema hall 1.
Main sources of income Agriculture 67.32%, non-agricultural labourer 6.68%, industry 0.27%, commerce 10.9%, transport and communication 0.8%, service 5.69%, construction 0.46%, religious service 0.32%, rent and remittance 0.37% and others 7.19%.
Ownership of agricultural land Landowner 50.01%, landless 49.99%; agricultural landowner: urban 52.07% and rural 47.36%.'
Main crops Paddy, corn, mustard, potato, ginger, turmeric, vegetables.'
Main fruits Banana, jackfruit, lemon, pineapple.
Fisheries, dairies and poultries Poultry 10.
Communication facilities Pucca road 20 km, semi-pucca road 50' km, mud road 80 km.
Extinct or nearly extinct traditional transport Bullock cart.
Noted manufactories Rice mill, flour mill, saw mill.
Cottage industries Weaving, potteries, embroidery, wood work, bamboo work, cane work.
Hats, bazars and fairs Hats and bazars are 7, fairs 2, most noted of which are Manikchhari Bazar, Mahamuni Bazar, Gachhabil Bazar, Tintahri Bazar, Chaitra Sankranti Mela adjacent to Mahamuni Temple.
Main exports Banana, jackfruit, ginger, turmeric, vegetables, bamboo, cane, wood.
Access to electricity All the unions of the upazila are under rural electrification net-work. However 8.56% of the dwelling households have access to electricity.
Natural resources Natural gas (Juiggachhara Chimuthang Gas Field).
Sources of drinking water Tube-well 41.99%, tap 0.63%, pond 6.05% and others 51.33%.
Sanitation 11.42% (rural 4.69% and urban 16.67%) of dwelling households of the upazila use sanitary latrines and 65.1% (rural 65.7% and urban 64.63%) of dwelling households use non-sanitary latrines; 23.48% of households do not have latrine facilities.
Health centres Upazila health complex 1, family planning clinic 1, diagnostic centre 4. [Atikur Rahman]
References Bangladesh Population Census 2001, Bangladesh Bureau of Statistics; Cultural survey report of Manikchhari Upazila 2007.