Mannan, Sheikh Abdul (?-1971) journalist, martyr intellectual. Sheikh Abdul Mannan is better known by his nickname Ladu Bhai. He was born in Kolkata sometime in the 1920s. His family migrated to East Pakistan after the partition of India in 1947. He was one of the pioneers of English sports journalism in East Pakistan. A passionate lover of sports, SA Mannan headed the sports desk of the Pakistan Observer' for a decade. He also worked as the paper's racing correspondent. Earlier he worked in the news desk of daily Azad and daily Sangbad.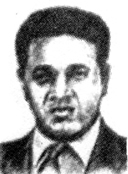 In the early sixties, under his enthusiasm the Pakistan Observer took a bold stand against wholesale importation of West Pakistani players for the Dhaka Football League. One team that boasted of a whole line-up of West Pakistani players was dubbed by him in the Observer  page as the 'Makrani  Eleven' referring to the place-name Makran in West Pakistan wherefrom most of these players came.
SA Mannan was the general secretary of Mohamedan Sporting Club, Dhaka (1963-64). As a member of the East Pakistan Sports Federation he fought for the rights of the organisers and players from the eastern wing.
Under his dynamic leadership, the sports page of the Pakistan Observer had become a page of reference for the sports leaders and lovers of sports in East Pakistan.
In the dark days of 1971 he would keep constant contact with the freedom fighters and journalists who had gone underground or crossed over the border to India. And sooner still came the end. He was picked up by masked men from his flat in Purana Paltan. Thereafter he could not be traced. [Akhtar Husain Khan]