Manzoor, Major General Muhammad Abul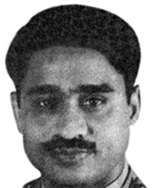 Manzoor, Major General Muhammad Abul (1940-1981) army officer and a sector commander of the War of Liberation. Manzoor was born at village Gopinathpur under Kasba thana of Comilla district in 1940. His paternal home is at village Kamalpur in Chatkhil thana of Noakhali district. He passed senior Cambridge in 1955 and ISc examination in 1956 from the Sargoda Public School in Punjab. He obtained his PSC degree in 1958 from Staff College in Canada, and joined the East Bengal Regiment as a commissioned officer.
While serving as brigade major in Sialkot, Muhammad Abul Manzoor secretly left his station to join the war of liberation in July 1971. He was appointed sector commander of sector 8 by the mujibnagar government. With his headquarters at Benapole, he led the liberation force in the districts of Kushtia, Jessore, Khulna, Barisal, Patuakhali and Faridpur.
After the liberation, Manzoor was appointed brigade commander of 55 Brigade in Jessore. In recognition of his heroic contribution to the War of Liberation he was honoured with the state insignia of 'Bir Uttam' by the government of Bangladesh.  In 1973, he joined the Bangladesh High Commission in New Delhi as military adviser.
He was made the Chief of General Staff of Bangladesh army on 13 November 1975. In 1977, he was appointed the GOC of the 24th Division of the army in Chittagong.
After the assassination of President Ziaur Rahman in Chittagong on 30 May 1981 by a group of army officers, Major General Abul Manzoor declared himself as the supreme commander of the armed forces and the chief of civil administration. But it was an abortive coup. Manzoor attempted to escape, but was ultimately captured and killed on 2 June 1981. [Muazzam Hussain Khan]