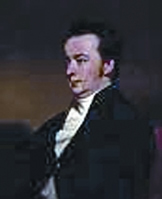 Metcalfe, Sir Charles T (1785-1846) acting Governor General of India from March 1835 to March 1836. Born on 30 January 1785 in Kolkata, Charles Metcalfe was the son of Thomson Metcalfe, a Major of the East India Company's Army. Educated at Bromley and Eton, he came back to Calcutta in 1801 at the age of sixteen as a writer in the Company's service.
Metcalfe held various political assignments. He played a leading role in concluding the treaty of Amritsar of 1809 with Ranjit Singh that brought stability in the Punjab and was in force till the first Sikh war of 1845. The British territory was secured as the Sikh energies were diverted against Afghanistan and Sind. As a reward Charles Metcalfe was posted as Resident at Gwalior in 1810, at Delhi from 1811 to 1819 and at Hyderabad from 1820-1822 and from 1825-1827.
Metcalfe served as Secretary in the Secret and Political Departments. He was private secretary to lord hastings from 1819 to 1820 and a member of the Supreme Council of Calcutta from August 1827 to November 1834. He was the Acting Governor General of India (March1835-March1836) after bentinck. The court of Directors was planning to recommend making his appointment permanent. But Metcalfe, a man of liberal thinking, incurred the displeasure of the Court by removing the restrictions imposed by wellesley on the Indian press, thus guaranteeing freedom of expression to the Indians.
Consequently he was sent as Lt Governor to the North-West Province (modern Uttar Pradesh) where he served for two years from 1836 to 1838. He was then appointed Governor of Madras. Disappointed, Metcalfe soon resigned from the Company';s service when his liberal reform promises were unfavourably received by the Court of Directors, and sailed for England.
Later he served as Governor of Jamaica (1839-42) and Governor General of Canada (1843-45). He was made a Privy Councillor in 1845 and died of cancer on 5 September 1846.
No other Englishman served India for so long a period as did Metcalfe. He arrived in India when British power was on the ascendancy under Lord Wellesley and lived in this country for 38 years. His urge for reform prompted him to prohibit slavery and the practices of sati and infanticide in the Delhi territory as early as 1812. While a member of the Council it was Metcalfe who influenced Governor General Bentinck to take the natives into partnership in governing the country. He was an able civil servant with progressive views. His liberal press policy endeared him to the Indians who created the Metcalfe Hall in Calcutta and placed his bust there. [KM Mohsin]