Michael Madhusudan College
Michael Madhusudan College was established at jessore in 1941. Mahitosh Roy Chowdhury convened a meeting of the local elite in August 1940 to establish a college. In the presence of Roy Bahadur Keshablal Chowdhury, Surendranath Haldar, the chairman of the Jessore Municipality and district judge S K Gupta the meeting formed a 34-member executive committee with Kshitinath Ghosh as its secretary to set up a college. The College started functioning in 1941 in two buildings of Jessore Medical Institute located at the Chudanga bus stand. At that time the college was named Jessore College.
The first principal of the college was Dr Dhirendranath Kar. In the first year of academic activities, the college had 146 students, of which 4 were girls, Hindus 109 and 37 Muslims. Two separate hostels were constructed for Hindu and Muslim students. During the World War II the British Forces used the college building as one of their camps and the college had to be shifted to the Kacharibari (estate office) of the zamindar of Hatbaria, near the present Fire Brigade Office. It was again shifted to its original place in 1945 and was renamed Michael Madhusudan College after the name of michael madhusudan dutt. The college faced financial hardships after the Partition of Bengal in 1947. District magistrate H S Nomani helped a lot to overcome the problem of the college.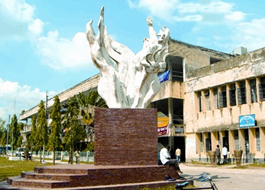 The college introduced BCom (pass) and BSc (pass) programmes in the 1950s. In 1962, it was shifted to a new place in the Kharki Mouza. The Shaheed Minar of the college was constructed around this time. The college introduced Honours courses in Bangla, Economics and Geography in the 1962. It was nationalised in 1968. Honours courses in Physics, Botany, Mathematics, Chemistry, Management and Accounting were introduced in the college in 1991. It introduced Masters programme in 1992. In 1995-96 academic year, it introduced honours courses in English. Later Honours courses in Political Science, Sociology, Philosophy, History, Islamic History, Islamic Studies and Zoology were introduced. At present, the college offers honours programme in 17 disciplines and Masters programme in 16 disciplines.
At present, the college is located on a land of 22.18 acres. It has 7 buildings that accommodate classrooms and offices. It has a playground, 2 mosques, 2 ponds, 2 common rooms and 3 students' hostels. It also has independent houses for the principal and hostel superintendent, as well as for the teachers and other staff. There is a post office and a canteen in the college campus. The number of students in the college is about 24,000 and that of teachers is 167. The central library of the college has a collection of 25,000 books. Students take part in cultural activities through 3 cultural organisations.
The students of the college are active in the bangladesh national cadet core, Rover Scouts and in Red Crescent. Many teachers and students of the college took active part in the war of liberation in 1971. [Amjad Hossain]