Mirza, Major General Sayyid Iskander Ali
Mirza, Major General Sayyid Iskander Ali (1899-1969) President of Pakistan. Born in the Nawab family of Murshidabad on 13 May 1899, Sayyid Iskander Mirza grew up in Bombay (Mumbai) and completed his early education at the Elphinstone College, Bombay. He was educated at the Royal Military Academy at Sandhurst in 1918, and got commissioned in the British Indian Army in 1920. He served in the Second Battalion, Cameronians (16 July 1920) and in the Khodad Khel Operations, (1921) and at Waziristan (1924).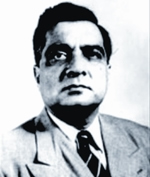 Iskander Mirza left the army in 1926 and joined the Indian Political Service. He was an Assistant Commissioner at Abbottabad (1926-1928), Bannu (1928-1930), Nowshera (1930-1933) and Tonk (1933); Deputy Commissioner at Hajara (1933-1936) and Mardan (1936-1938), Political Representative, Khyber (1938-1940), Deputy Commissioner of Peshawar (1940-1945) and Political Representative of  Orissa States (1945-1946). Mirza became Joint Secretary in the Defence Ministry of the Government of India in 1946 and after partition he was appointed Defence Secretary of the Government of Pakistan.
Mirza was appointed Governor of East Bengal on 30 May 1954 following the dissolution of the United Front cabinet and imposition of the rule of Governor General in the province. Iskander Mirza, just after his appointment as Governor, took stern measures with a view to establishing law and order and keeping the political situation under control. Within a month he arrested 1051 persons including 33 Parliament Members and 2 Professors of the Dhaka University. He imposed ban on meeting or procession. Press censorship was imposed and he restricted the activities of the Communist Party. The law and order situation improved gradually. He decorated the Governor House and would arrange there gorgeous dinner parties including dance and singing. He used to visit in disguise to hospitals, markets, educational institutions and government offices. He did his best to provide relief and rehabilitating the people affected by a tidal bore in August-September 1954. He left Dhaka on 14 September 1954 and was appointed central Minister for Interior and Frontier Regions. On 5 August 1955 Governor General Ghulam Mohammad took leave of office due to illness and Mirza became the Acting Governor General and later Governor General of Pakistan.
On the basis of the first Constitution (1956) of Pakistan the position of the Governor General was replaced by that of President, and Mirza was officially elected as President by the Assembly. He declared martial law on 7 October 1958 due to political instability continuing in the country and appointed the Commander-in-Chief of the Pakistan Army, General Ayub Khan, as the Martial Law Administrator. Within three weeks, Ayub Khan declared himself President on 27 October (1958) after a bloodless coup d'etat and forced Iskander Mirza to go out of the Presidential Palace, first to Quetta and then to exile in London. He died there on 12 November 1969. The military government of General Yahya Khan did not allow his mortal remains to be buried in Pakistan and as such his body was flown to Tehran for burial. Shah of Iran gave him a state funeral befitting a head of state.
General Iskander Ali Mirza was awarded a number of medals and honors such as: King George V Silver Jubilee Medal (1935), India General Service Medal (1936), King George VI Coronation Medal (1937), Officer of the Order of the British Empire (OBE) (1939), Companion of the Order of the Indian Empire (CIE) (1945), Pakistan Independence Day Medal (1948), Queen Elizabeth Coronation Medal (1953), Grand Collar of the Order of Pahlavi of the Empire of Iran (1956), Order of the Supreme Sun, First Class of the Kingdom of Afghanistan (1958). [Abu Jafar]