Mirzaganj Upazila (patuakhali district) area 175.45 sq km, located in between 22°13' and 22°29' north latitudes and in between 90°08' and 90°19' east longitudes. It is bounded by bakerganj upazila on the north, barguna sadar upazila on the south, the Rajganj river, patuakhali sadar and dumki upazilas on the east, betagi upazila on the west.
Population Total 118054; male 59003, female 59051; Muslim 107912, Hindu 10108 and others 34.
Water bodies' Main rivers: Rajganj, Burishwar, Srimanta.
Administration Mirzaganj Thana was formed in 1812 and it was turned into an upazila in 1983.
Upazila
Municipality
Union
Mouza
Village
Population
Density (per sq km)
Literacy rate (%)
Urban
Rural
Urban
Rural

-

6

68

73

20084

97970

673

60.1

60.4
Upazila Town

Area (sq km)

Mouza

Population

Density (per sq km)

Literacy rate (%)

17.63

5

20084

1139

60.06
Union
Name of union and GO code
Area (acre)
Population
Literacy rate (%)
Male
Female

Amragachhia 13

7470

11004

11175

62.80

Kakrabunia 40

6626

8115

8139

55.88

Deuli Subidkhali 27

6394

10223

9779

62.71

Majidbaria 67

6202

8116

8274

62.60

Madhabkhali 54

6995

10472

10657

63.71

Mirzaganj 81

6933

11073

11027

54.17
Source  Bangladesh Population Census 2001, Bangladesh Bureau of Statistics.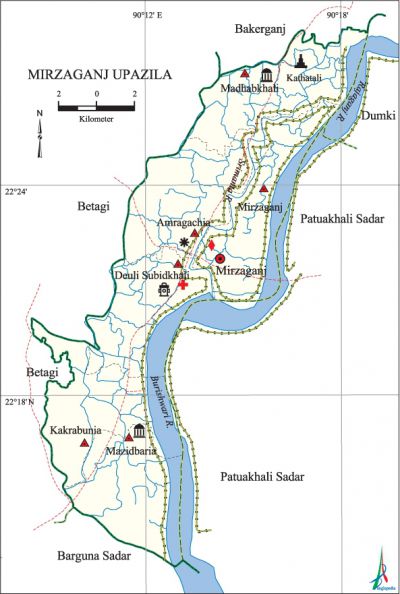 Archaeological heritage and relics Single domed Shahi Mosque at Majidbaria, Radhagovinda Mandir (Kanthaltali).
History of the War of Liberation At the initial stage of the war of liberation in 1971 a large number of youths were given military training in the training centre at village Deuli of this upazila. A battle was fought between the freedom fighters and the Pak army at the border of Mirzaganj upazila in which 32 Pak soldiers were killed and many were wounded. The freedom fighters took control over the Mirzaganj Police Station on 7 December while a number of razakars were killed in encounter with them.
Religious institutions Mosque 360, temple 45 dargah 2, tomb 4. Noted religious institutions: Upazila Central Jami Mosque, Dargah Sharif Jami Mosque, Chaita Darbar Sharif Jami Mosque, Kalibari Mandir, Kanthaltali Radhagovinda Mandir, tomb of Khalifa Yaruddin.
Literacy rate and educational institutions Average literacy 60.4%; male 65%, female 55.8%. Educational institutions: college 5, secondary school 31, technical school 5, primary school 133, kindergarten 3, madrasa 54. Noted educational institutions: Subidkhali Degree College (1972), Subidkhali Mahila College (2000), Akhtar Hossain Choudhury Memorial College (2002), Subidkhali RI Secondary School (1933), Subidkhali Pilot Secondary School (1934), Jhatibunia MI Secondary School (1955), Kanthaltali Secondary School (1963), Chaita Secondary School (1968), Subidkhali RK Girls' School (1990), Kanthaltali Government Primary School (1924), Subidkhali Daruchchunnah Senior Madrasa (1960), Chaita Nesaria Senior Fazil Madrasa (1940).
Cultural organisations Library 31, club 15, cinema hall 1.
Main sources of income Agriculture 62.46%, non-agricultural labourer 3.84%, industry 0.81%, commerce 12.20%, transport and communication 1.29%, service 10.35%, construction 1.61%, religious service 0.26%, rent and remittance 0.31% and others 6.87%.
Ownership of agricultural land Landowner 81.41%, landless 18.59%.
Main crops Paddy, pulse, ground nut, potato, vegetables.
Extinct or nearly extinct crops Tobacco, jute, sugarcane.
Main fruits Mango, jackfruit, banana, futi, watermelon.
Fisheries, dairies and poultries Fishery 112, dairy 15, poultry 25, hatchery 3.
Communication facilities Pucca road 93 km, semi-pucca road 12 km, mud road 453 km.
Extinct or nearly extinct traditional transport Palanquin, horse carriage.
Noted manufactories Rice mill, flour mill, ice factory, saw mill, welding factory.
Cottage industries Weaving, blacksmith, bamboo work, wood work, tailoring.
Hats, bazars and fairs Hats and bazars are 50, fairs 2, most noted of which are Mirzaganj Bazar, Kanthaltali Bazar, Madhabkhali Bazar, Mirzaganj Hat, Subidkhali Hat, Kakrabunia Hat, Majidbaria Hat and Kanthaltali Hat.
Main exports Banana, pulse, vegetables.
Access to electricity All the unions of the upazila are under rural electrification net-work. However 19.52% (urban 29.32% and rural 17.62%) of the dwelling households have access to electricity.
Sources of drinking water Tube-well 90.11%, tap 0.40%, pond 7.63% and others 1.86%.
Sanitation 54.81% (rural 50.11% and urban 79.08%) of dwelling households of the upazila use sanitary latrines and 40.50% (rural 44.67% and urban 19.02%) of dwelling households use non-sanitary latrines; 4.69% of households do not have latrine facilities.
Health centres Upazila health complex 1, clinic 7, satellite clinic 4, family planning centre 6.
Natural disasters Many people were victims of the devastating cyclones of 1822 and 1960, and the flood of 1876. These natural disasters also caused heavy damages to settlements, livestock and other properties of the upazila.
NGO activities Operationally important NGOs are brac, asa, CARE. [Md. Mizanur Rahman]
References Bangladesh Population Census 2001, Bangladesh Bureau of Statistics; Cultural survey report of Mirzaganj Upazila 2007.