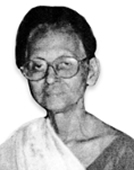 Mitra, Ila (1925-2002) an important communist leader who organised resistance movement against British rule in India at the grassroots level. She was born in Kolkata on 18 October 1925. Her forefathers hailed from Bagotia, which is now in the district of Jhenaidah. Her father, Nagendranath Sarker, was the Accountant General of Bengal.
Ila Mitra began her political activities when she was a student at Bethun College in Kolkata. She passed IA in 1942 and BA (Honours) in 1944 from the same college and much later, in 1957; she did her MA in Bangla Literature and Culture from Calcutta University as a private student. She was a member of Calcutta Mohila Atmarakkha Samiti (Association for women's self-defence) and of the All India Communist Party.
In 1945, Ila Mitra got married to Ramendra Mitra, who was a scion of a zamindar family of Chapai Nawabganj and an active member of the Communist Party. She came to her husband's village home and became a volunteer teacher at a girls' school established by Ramendra Mitra and his friend, Altaf Mia. Very soon she became a leader of the local peasantry in their movement for forcing the government to implement the floud commission report. She played key role in organisation of the nachole uprising and the santal rebellion during the period between 1946 and 1950.
In 1946, Ila Mitra and other local Communist Party leaders organised a mass movement to resist Hindu-Muslim communal violence. She went to the riot-affected village of Hasnabad in Noakhali when Mahatma Gandhi was in a visit there to put an end to the communal riot.
Following a clash between peasants and the policemen at Nachole on 5 January 1950, about 2000-armed policemen were sent there for preserving peace. But they set many villages on fire and killed many villagers. They arrested Ila Mitra while she was trying to escape. She was sent to the Rajshahi Central jail on 21 January 1950. Tried under a treasonable charge, Ila Mitra was sentenced to life imprisonment.
Ila Mitra fell very sick in jail and in 1954, the united front government sent her in parole to Kolkata for treatment. To avoid arrest she did not come back home again. She continued to participate in political activities in Kolkata under the banner of the Communist Party of India. She was elected member of Bidhan Shabha (Provincial Assembly) four times between 1962 and 1978. However, in India also she had been put to jail four times during 1962-1972. She played a significant role in mobilising public opinion in India for support to the war of liberation of Bangladesh.
Besides politics, Ila Mitra had literary interest, too. She was honoured with the 'Soviet Land Neheru' for literary translation work. The central government of India conferred upon her the award Tamra Patra in recognition of her activities as a leader in the struggle against British Raj. Ila Mitra died in Kolkata on 13 October 2002. [Mesba Kamal]