Mohee, ANM Faizul (1939-1971) educationist, martyr intellectual. He was born on 10 August 1939 in Feni. His father was Mohammad Nurul Islam Choudhury. Faizul Mohee passed matriculation examination in 1955 from Feni Government High School, IA in 1957 from Feni College and obtained his graduation in 1959 from the same college. In 1962 he got his B.Ed degree from Dhaka Teachers' Training College and MEd degree on Education and Research from Dhaka University. Faizul Mohee went to USA for higher education with government scholarship, and obtained MA degree in 1965 and EdD (Doctorate of Education) degree on Educational Administration in 1968 from the Northern Colorado University.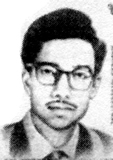 Faizul Mohee began his career in teaching in 1962 as Headmaster of Feni GA Academy School. He joined as Lecturer in the Education and Research Institute of Dhaka University in 1968. The same year he was promoted to the post of Assistant Professor.
A man of free thought Faizul Mohee was active in all the nationalist movements of the country. During the War of Liberation he gave financial support to the freedom fighters and to the affected Bangali families. The activists of AL-BADR abducted Faizul Mohee on 14 December 1971 from his University quarters at Fuller Road. His dead body was recovered later from the scaffold at Rayerbazar.
Faizul Mohee was devoted to sports, literary pursuits and to songs and music. A good number of his research articles were published in different journals and periodicals from country and abroad.
The Postal Department of the Government of Bangladesh issued commemorative postal stamp in the name of Faizul Mohee on the Martyred Intellectual Day on 14 December 1993. [ATM Zayed Hossain]