Mosharraf, Major General Khaled
Mosharraf, Major General Khaled (1937-1975) army officer and a sector commander of the war of liberation. Khaled Mosharraf was born on 1 November 1937 at village Mosharrafganj in Islampur upazila of Jamalpur district. His father Mosharraf Hossain was a jute merchant and his mother was Jamila Akhtar. Khaled Mosharaf had his early education at Islampur High School and Mymensingh Zila School. He passed Matriculation examination from Cox's Bazar High School in 1953, IA examination from Dhaka College in 1955, and then joined the army to have been enrolled at the Pakistan Military Academy in Kakul. Having obtained commission in the army in 1957 he received military training for eight years (1957-1965) in different army training institutes.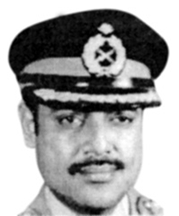 Khaled Mosharraf was appointed Adjutant of the Fourth Bengal Regiment during the Indo-Pak War in 1965. Immediately after the cessation of war he joined the Kakul Military Academy as an instructor. On his obtaining graduation from the Kakul Military Academy, Khaled Mosharraf was promoted to the post of Major. He obtained PSC degree from the Command and Staff College, Quetta in 1968, and was appointed Brigade Major of 57-Brigade at Kharia. He was transferred to Dhaka in March 1970 when he had the opportunity to get military training in West Germany and later in London.  
Khaled Mosharraf was put in charge of the Fourth Bengal Regiment in Comilla cantonment on 24 March 1971. Having intelligence of the army crackdown and mass killing in Dhaka and Chittagong, he secretly seceded to Brahmanbaria on 27 March to organise and consolidate his army there, and to join the War of Liberation. He took over as commanding officer of the Fourth Bengal Regiment and confined all the non-Bangali officers of the Regiment. On strategic ground he transferred the headquarters of his army from Brahmanbaria to Teliapara tea garden.
After successfully resisting the Pakistan army till mid-April he retreated in the face of repeated air attacks of the enemy forces, and took position with his army in the kingdom of Tripura at the end of April. He was appointed sector commander of Sector 2 by the mujibnagar government (30 April) and was the chief of the K-Force. Mosharraf was promoted to the rank of Lieutenant Colonel during the War of Liberation. As a commander of Sector 2 he led the liberation force in the districts of Dhaka, Comilla, Faridpur and Noakhali. In an encounter with the enemy he was wounded by a bullet shot on his head (23 October), and recovered after a long treatment at the military hospital in Lukhnow.
After liberation, Khaled Mosharraf was appointed Staff Officer at the army headquarters in Dhaka. Later he was promoted to the rank of Brigadier and then elevated to the post of Chief of General Staff of Bangladesh Army. In recognition of his heroic contribution to the War of Liberation he was honoured with the state insignia of 'Bir Uttam' by the Government of Bangladesh (1972).
In course of the events that took place after the brutal killing of Bangabandhu sheikh mujibur rahman on 15 August 1975, Khaled Mosharraf led a military coup de'tat on 3 November 1975. Khaled Mosharraf was killed in a counter coup on 7 November in the Dhaka cantonment. [Muazzam Hussain Khan]