Mridha, Khoda Box (1945-2010) sports commentator, player and sports organiser. He was born on 22 January in 1945 at Hethemkha in rajshahi. He passed his Matriculation Examination from Rajshahi Muslim Higher Secondary School in 1961 and the Intermediate Examination in 1963 from rajshahi college and then he completed his Graduation and post Graduation from rajshahi university in Political Science. Khoda Box established Sunrise Club in 1960 at Hethemkha of Rajshahi. In 1960, the club won many trophies as a popular cricket team of Rajshahi district.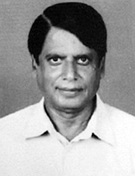 After liberation, Sunrise Club had played the semifinal for several times in Shere Bangla cricket tournament and won the trophy of Dinajpur Mim Smriti tournament on several occasion.
Khoda Box started his career in 1968 as a lecturer in the department of political science at M C college in Sylhet. After that he worked as a teacher in Rajshahi New Government Degree College, Rajshahi Government Women College, Rajshahi Government City College and Rajshahi Government College. In May 1994, he joined in Shariathpur Naria Government College as a Principal. He retired as a professor from Rajshahi Government College in 2003.
Mridha was an Executive Member of Bangladesh Cricket Board. He became famous as a sports commentator. In 1972 a friendly match between Kolkata East Bengal and Rajshahi District Football team was broadcast in Rajshahi radio, Khoda Box Mridha made his debut as a commentator on that match. Thereafter he worked as a national and international football and cricket commentator in Bangladesh radio and television from 1978 to until his death.'
He travelled several countries for commentary such as 1997 SAAF Football Games in Nepal, 1999 Pepsi Asian Test Championship in Pakistan and International Cricket Match in New Zealand between Bangladesh and New Zealand in 2001 and 2002. At last on 21 March 2010, he had provided his last commentary for international cricket match between Bangladesh and England at MA Aziz Stadium in Chittagong. He had been involved in commentator for 38 years.
Apart from teaching and sports he was also interested in music. He was a modern singer and part-time newsreader in Bangladesh radio. Besides that he had performed a commentator character in the movie Jago as a guest artist in 2010. He had been honoured as distinguished Citizenship reception from Rajshahi City Corporation in 2001 and 2005.
He died on 30 March 2010. [Sara Sultana]