Mukherji, Shyama Prasad (1901-1953) scholar, nationalist and parliamentarian. Shyama Prasad Mukherji was born on 6 July 1901 in a Brahmin family of a high social status in Calcutta. From his parents, Sir asutosh mookerjee and Shrimati Jogmaya Devi, he inherited a saga of erudite scholarship and fervent nationalism. They also inspired him to 'live a pure and manly life'.
Graduating in 1921 with Honours in English and securing the first position in the first class from the Presidency College, Shyama Prasad Mukherji had his MA in Indian Vernaculars. Then he got a BL degree in 1924 and topped the list in the Calcutta University.
Since his student days, Shyama Prasad assisted his vice-chancellor father in forming the educational plans. After his father's death in 1924, his presence at the University Senate and Syndicate was considered essential. In 1934, he became the youngest Vice-Chancellor of the university.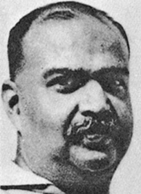 Shyama Prasad's political career was also characterised by high idealism. In 1929 he was elected to the Bengal Legislative Council as a Congress candidate from the university constituency. He acted as a safeguard for the university in the council. But, in response to the Congress call for boycott of councils, he resigned but later re-entered it as an independent member for the sake of the university. In 1937 he was re-elected from the university constituency.
The passing of the Secondary Education and the Calcutta University Bills seriously impaired the educational structure of Bengal. Shyama Prasad endeavoured to persuade the Congress leadership to topple the ministry, but failed. He, therefore, rallied round himself non-Congress and non-Muslim League nationalist forces and formed the coalition ministry with ak fazlul huq as the Chief Minister and himself shouldering the Ministry of Finance. During this period Veer Savarkar created a deep impression on him and he joined the hindu mahasabha and became its acting president in 1939.
When the quit india movement started, the British unleashed a reign of terror in the country and all the Congress leaders were put in to jail. In fact, there was no one to take up the national cause. Shyama Prasad, though a member of the government, voluntarily took up his national responsibilities. Having failed to persuade the central government to desist from its repressive measures, he decided to quit the Bengal Cabinet and to lead the national forces against the British.
During the 1943 famine, his humanitarian work saved a lot of lives. Soon after the rigorous famine the shadow of partition began to threaten the stability of life. He put forward the argument that if at all India was to be partitioned on the communal basis, in that case Bengal and Punjab must be partitioned on the same ground.
Here also Shyama Prasad stood firm and swam against the partition current. In the complex political scenario, his endeavour went in vain. Shyama Prasad joined the first government of free India as Minister for Industries and supplies. But his difference with Nehru led to his resignation from the ministry. He became the first member of the opposition in the Parliament and Constituent Assembly of India. He concentrated his energy to create a real democratic opposition. The result' was the Bharatiya Jana Sangha. In the first general election Jana Sangha was only able to send three members, including Shyama Prasad to the first Lok Sabha. Though he had limited members, but together with other small parties, he formed the National Democratic Party in the Parliament, of which he was elected leader. His role in the Lok Sabha as the leader of opposition earned him the title 'lion of Parliament'. In 1953, he died' in Srinagar. [Ranjit Roy]