Mukundadas (1878-1934) His original name was Yajneswar, but later' it was changed to Mukundadas after being initiated by Ramananda.
Mukundadas's grandfather was a boatman and his father, Gurudayal, worked as an orderly at the District Court in barisal where they finally settled. Mukundadas studied at Barisal Zila School. When he was 19, he joined a kirtan party. Subsequently, he formed his own troupe and devoted himself to music.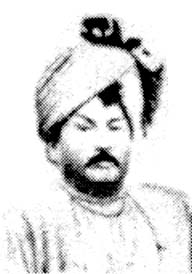 He made reputation for himself in writing songs onswadeshi movement and kirtan. He was initiated into Swadeshi movement by aswini kumar datta of Barisal. He also wrote nationalist plays. His songs were published in a magazine called Barishal Hitaisi (Friend of Barisal). A collection of his songs was published as Matrpuja (Worship of Mother, 1908). In his songs Mukunadas called for the boycott of foreign goods and described the oppression by the British in simple, but attractive language. Enraged by his songs like Chhila dhan gola bhara / shveta indure karla sara (Granaries filled with rice/were destroyed by white mice), the British government put him into prison for about three years.   
During the non-cooperation movement in 1922 and the Civil Disobedience Movement in 1930, Mukundadas continued to inspire people with his songs and plays. He was referred to as a charan kavi, or bard, by rabindranath tagore and kazi nazrul islam. His collections of writings include Sadhansabgit (Songs of devotion), Palliseba (Village welfare), Brahmacharini (Follower of brahmacharya), Path (Roads), Sathi (Companion), Samaj (Society), Karmaksetra (The world), etc. Some of these are posthumous publications. Mukundadas was awarded various medals as well as other prizes. [Wakil Ahmed]