Mushayera reciting of self-composed Urdu poems at assembly of poets. This traditional assembly of Urdu poets has in fact been a meeting point for Urdu litterateurs. Mushayera has played a key role in developing and promoting Urdu poetry.
It is not certain when mushayera got institutional currency in the subcontinent. According to Shibly Nomani, mushayera was known to be in practice among Persian poets in India even before the sixteenth century. Shibly says mushayera began during the time of poet Figani (died in 1519). Poets then used to take part in competitions for writing poems and through such competitions their poetic genius used to get stimulus. Urdu mushayera became popular in the eighteenth century when the writers and poets of Delhi began literary activities in Urdu alongside Persian.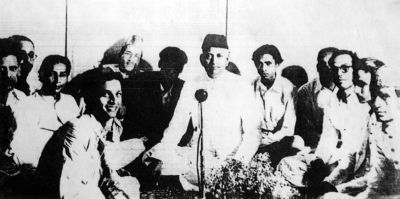 Urdu poetry was first introduced in the subcontinent by poet Amir Khosru. It was then that the common people had an opportunity to attend mushayera to see the Urdu poets at work. Mushayera assemblies were then very colourful. There used to be a number of judges to assess the quality of the poems. The poets used to recite their poems with candles burning in a shamadan or stand. Candles were also kept before the presiding judge. Mushayera played an important role in promoting culture of Urdu poetry through oral recitation. Two lines of a poem expressing full meaning were called a sher or couplet.
Mushayera was very popular in Dhaka. Mushayera and poetry festivals were quite widespread in the city, thanks to the patronage of the Dhaka Nawab family to Urdu. At one time there were many admirers of Mirza Ghalib in Dhaka. Many of the Urdu poets of Dhaka maintained contacts with Mirza Ghalib through correspondence. Some even met him in Delhi. The nawabs of Dhaka used to hold mushayera at ahsan manzil. Nawab Ahsanullah used to write Urdu poetry in pen-name Shaheen. He and several other Urdu poets of the family used to organize mushayera.
Even on Eid days lively Urdu mushayeras used to be held at Ahsan Manzil. Well-known Urdu poets of Dhaka took part in these mushayeras. They used to recite their poems line by line as other poets responded by shouting 'marhaba' 'marhaba' in approval. From inside the palace the wives of the nawabs used to send dates and sherbet for the poets along with salty-sweet Kashmiri tea. There was a time when it was a common practice in almost every home in Dhaka to exchange gahelis or riddles. In addition, gaheli sessions were also organized.
Regular mushayeras were held in some families in Dhaka. For example, mushayeras were held at Tibbia Habibiya College of hakim habibur rahman Akhundzada and at Reza Ali Wasat's house. While studying at Delhi in his childhood, Hakim Habibur Rahman joined mushayera at Agra's Gulabkhana. At his house in Dhaka mushayeras used to be held once every month. These monthly mushayeras were held regularly between 1930 and 1945. Selected poems from these mushayeras were published in the journal Guldasta and distributed free. At one such mushayera of Hakim Habibur Rahman poet kazi nazrul islam was present. A literary organisation of Dhaka called muslim sahitya-samaj used to organize mushayeras. During Pakistan time, Urdu poet Syed Sharafuddin Sharaf Al-Husaini used to hold mushayera at his Begumbazar house as did poet Hafez Zohurul Huq Mobaraki at his Buxibazar house. Among those who attended these mushayeras regularly were Reza Ali Washat, Kaifa Chiria Kothi, Fazle Karim Fazl, Dr Andalib Shadani, Salimullah Fahmi, Haider Dehlavi and Prof Iqbal Azim. They also took part in mushayeras held at the studio of Dhaka Station of Radio on the Nazimuddin Road.
Two poets of Persian origin in Dhaka were Syed Baquer Tabatabai and Agajan Irani. Every month they used to hold mushayeras at their houses. Often poet Syed Mahmud Azad attended those mushayeras. Urdu poet Naushad Noori also held mushayeras. Apart from the Urdu-speaking people, many Bangali poets and litterateurs also attended these mushayeras. Although the mushayera tradition of Dhaka is now almost extinct, several Urdu poets are still trying to uphold its heritage. [Rafiqul Islam Rafiq]