Narail Sadar Upazila (narail district) area 381.76 sq km, located in between 23°02' and 23°17' north latitudes and in between 89°23' and 89°37' east longitudes. It is bounded by lohagara and salikha upazilas on the north, kalia and abhaynagar upazilas on the south, Lohagara upazila on the east, bagherpara and jessore sadar upazilas on the west.
Population Total 269423; male 137234, female 132189; Muslim 187207, Hindu 81985, Buddhist 140, Christian 15 and others 76.
Water bodies Main rivers: nabaganga, chitra, bhairab; Gobra Canal is notable.
Administration Narail Thana was formed in 1861 and it was turned into an upazila in 1984.
Upazila
Municipality
Union
Mouza
Village
Population
Density (per sq km)
Literacy rate (%)
Urban
Rural
Urban
Rural

1

13

180

231

46909

222514

706

62.22

53.11
Municipality

Area (sq km)

Ward

Mahalla

Population

Density (per sq km)

Literacy rate (%)

27.72

9

24

37018

1335

64.96
Upazila Town

Area (sq km)

Mouza

Population

Density (per sq km)

Literacy rate (%)

10.35

11

9891

956

52.06
Union
Name of union and GO code
Area (acre)
Population
Literacy rate (%)
Male
Female

Auria 11

8013

11630

11267

61.90

Kalora 47

6984

10342

9912

51.71

Chandibarpur 33

6195

8913

8839

54.05

Tularampur 94

8258

8897

8667

63.08

Banshgram 13

9788

8875

7578

54.98

Bichhali 27

8142

10082

9912

52.42

Bhadrabila 20

6011

9083

9062

48.80

Maij Para 54

6865

10999

10518

48.72

Mulia 61

2555

5069

4822

52.06

Sahabad 74

4647

6343

6229

60.52

Shaikhati 81

9056

11011

10498

50.10

Singasolpur 88

4698

7946

7730

48.53

Habakhali 40

5984

8769

8412

42.86
Source Bangladesh Population Census 2001, Bangladesh Bureau of Statistics.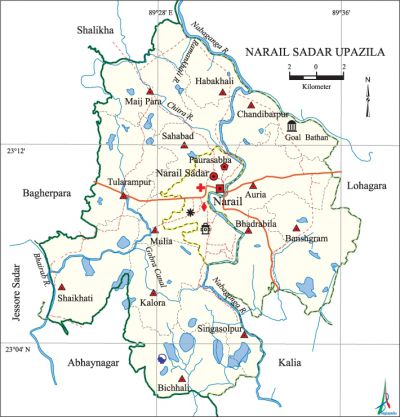 Archaeological heritage and relics Goal Bathan Mosque (1654).
Historical events In 1946 tebhaga movement begun in Narail under the leadership of Communist activist Nurjalal. On 26 March 1971, the youths of Narail under Professor Nur Mohammad Miah captured arms and ammunitions of Narail Armoury and carried these to Lohagara. On 2 April the freedom fighters raided the Rupganj military camp and, later on killed 60 Pak soldiers at the Narail ferry ghat while fleeing from the camp. On 3 April the Pak army launched an attack on Narail Town. A number of establishments were damaged and the Town was virtually vacated due to air attack on Narail town by the Pak army on 6 April. On 13 April the Pak army established their camp at Narail. In early May the Pak army in collaboration with the local razakars captured school teacher Sheikh Abdus Salam of Kalia Pilot High School from Ramsiddhi and killed him on 13 May in the Jessore Cantonment. On 17 July, the Pak army in collaboration with the local razakars captured 8 innocent persons from village Tularampur took them to Water Development Board camp and killed all of them. On 7 December the Pak army and razakars killed college student Mizanur Rahman. On 9 December the freedom fighters launched an attack on the Pak military camp in which another freedom fighter Motiar Rahman was killed. On 10 December the freedom fighters attacked the Pak army from all sides and liberated Narail. On 14 December Major muhammad abul manzoor, Commander of Sector 8 of the war of liberation formally hoisted the flag of the Independent Bangladesh at the Dakbangalow of Narail.'
Marks of the War of Liberation Mass grave 1.
Religious institutions Mosque 275, temple 75, church 1, tomb 2, sacred place 2. Noted religious institutions: Goal Bathan Mosque, Rupganj Jami Mosque.
Literacy rate and educational institutions Average literacy 54.73%; male 59.22%, female 50.09%. Educational institutions: college 10, homeopathic medical college 1, agricultural and technical college 1, technical school and college 1, secondary school 58, primary school 163, satellite school 10, community school 6, blind school 1, madrasa 76. Noted educational institutions: Narail Government Victoria College (1886), Narail Boys' High School (1854), Narail Victoria Collegiate School (1857), Narail VC School (1857), Narail Government High School (1903), Maliat Secondary School (1906), Habakhali Hamidunnechha Secondary School (1916), Singasolpur KP Secondary School (1921), Singia-Hatbalpur Secondary School (1921), Parbati Bidyapith (1923), Banshgram Bishnupur Secondary School (1932), Maij Para Secondary School (1932), Narail Secondary Girls' School (1953), Sahabad Majidia Aliya Madrasa (1950).
Newspapers and periodicals Daily: Ocean; weekly: Prantik, Narail Barta; fortnightly: Kiran, Bhorer Alo (defunct); periodical: Bhaskar, Gramer Bani, Jagriti, Raktarin, Hathchhani, Bijoy, Sahittakali, Fera, Shekorer Sandhane.
Cultural organisations Library 5, cinema hall 1, theatre group 1, jatra party 3, literary society 1, women organisation 2.
Main sources of income Agriculture 64.97%, non-agricultural labourer 2.53%, industry 1.78%, commerce 12.09%, transport and communication 3.55%, service 8.74%, construction 1.02%, religious service 0.14%, rent and remittance 0.73% and others 4.45%.'
Ownership of agricultural land Landowner 71.60%, landless 28.40%; agricultural landowner: urban 61.41% and rural 73.74%.
Main crops Paddy, wheat, jute, pulse, oil, betel leaf, vegetables.
Extinct or nearly extinct crops Indigo, china, kaun, mesta (jute).
Main fruits Mango, jackfruit, banana, papaya, blackberry, star apple, date, guava, coconut.
Fisheries, dairies and poultries Fishery 2350 (shrimp 1345, others fishes 1005), dairy 107, poultry 75, hatchery 1, nursery 16.
Communication facilities Pucca road 95 km, semi-pucca road 39 km, mud road 530 km; waterway 44.27 nautical miles.
Extinct or nearly extinct traditional transport Palanquin, bullock cart, horse carriage.
Noted manufactories Textile mill, saw mill, rice mill, flour mill, ice factory, printing press, welding factory.
Cottage industries Goldsmith, potteries, food' industry, weaving, cane work, bamboo and wood work, tailoring.
Hats, bazars and fairs Hats and bazars are 17, fairs 10, most noted of which are Rupganj Bazar, Gobra Bazar, Singia Bazar, Tularampur Bazar, Mirzapur Bazar, Maij Para Bazar, Nakmi Bazar, Chalitatala Bazar, Sultan Mela, Nishinathtala Mela, Rupganj Mela and Hijal Danga Mela.
Main exports Betel leaf, papaya, date molasses, coconut.
Access to electricity All the wards and unions of the upazila are under rural electrification net-work. However 18.99% of the dwelling households have access to electricity.
Sources of drinking water Tube-well 95.86%, pond 0.35%, tap 1.58% and others 2.21%. The presence of arsenic has been detected in 21% shallow tube-well water of the upazila.
Sanitation 37.77% (rural 33.42% and urban 58.44%) of dwelling households of the upazila use sanitary latrines and 41.10% (rural 43.93% and urban 27.66%) of dwelling households use non-sanitary latrines; 21.12% of households do not have latrine facilities.
Health centres Hospital 1, satellite clinic 3, union health and family welfare centre 9, maternity 14, clinic 32.
Natural disasters More than one hundred people were victims' of the cyclones of 1909, 1961 and 1988; besides these cyclones also caused heavy damages to settlements, livestock, plantation and other properties of the upazila. A large number of people were victims of the famines of 1770 (BS 1176), 1943, and 1950. The floods of 1988 and 1998 caused heavy damages to settlements, livestock and crops of upazila.
NGO activities Operationally important NGOs are CARE, brac, asa, proshika. [Enamul Kabir Tuku]
References Bangladesh Population Census 2001, Bangladesh Bureau of Statistics; Cultural survey report of Narail Sadar Upazila 2007.