Narail Victoria College was established in 1886 by Chandra Roy, son of Zamindar Ratan Roy of Narail in the premises of Narail Collegiate School founded by the latter in 1857 at Rupganj near Narail on the bank of the river Chitra. Chandra Roy donated land and also provided financial support to the college. It was named after Queen Victoria.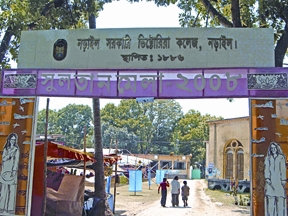 The first principal of the college was Jogendranath Sena. The College started courses of the FA Programme (equivalent to the present HSC) in 1886 with permission from calcutta university. The college unit was separated from the school in 1890. The same year the college introduced courses of the Bachelor of Arts programme. In 1924, it introduced science courses at intermediate level. The situation developed in the area following the partition of bengal in 1947 created some financial and other problems for the college, which however, gradually were overcome.
The college introduced commerce courses at the intermediate level in 1964 and at the degree level in 1966. Bachelor of Science courses were introduced in 1967. The college was nationalised in 1980.
Narail Victoria College stands on an area of 13.85 acres. It has 12 buildings, which include a students' hostel, a science building, an administrative building, a library building and three academic buildings. The college has separate establishments for sports, literature, journals and education and health. Students of the college take part very actively in cultural programmes, debates, and the bncc activities. [Amjad Hossain]