National Academy for Planning and Development
National Academy for Planning and Development (NAPD) is a public institute, which organises Post Graduate Diploma in Development Planning and Project Management, Information and Communication Technology (ICT), E-governance and E-commerce, Language and Human Resource Management courses and other courses on subjects of National and International importance. The Academy started as a development project in 1980. The Government declared the academy as a 'Body Corporate' on 3 February in 1985. From that day the Academy actually emerged as a permanent Government institution. On 12 June 2007 the Academy was given a new name called the 'National Academy for Planning and Development'.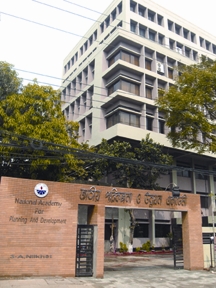 For management the Academy 'has a Board of Governors (BOG), which is entrusted with the responsiblity for running the institution. The Minister for Planning and Development of the Government of Bangladesh is the Chairman of the BOG. The Secretary of the Planning Division is the Vice President and the Director General of the Academy is the Member Secretary of the BOG. The BOG has thirteen members drawn from various ministries, departments, and centres and other specialised bodies.
The academy organises customised courses on various utility based topics as requested by different organisations. Its courses include planning and project management, project feasibility/appraisal study, monitoring and evaluation of development projects, procurement management, leadership and strategic planning, research methodology, management skills for project executives, financial management, IMED monitoring and reporting procedure, project formulation, departmental training for BCS (Economic) cadre officer, human resource management, millennium development goals, office management, English Language Proficiency, Computer Basics, Personal Computer Troubleshooting, Microsoft Project, Project Planning, Development and Management (PPDM), Web Page Development and Deployment and Foundation Training for BCS (Health) Cadre Officers.
NAPD conducts all training courses following participatory method. The method' is composed of (a) Theory (b) Practical exercises (c) Field visits (d) Project preparation (e) Group discussions (f) Simulations (g) Oral and written exams and (h) Monitoring and evaluation.
A specialised and functional library with a collection of about 14,000 books, periodicals, journals and research reports has been set up at napd for the benefit of the trainees and faculty members. NAPD conducts research and undertakes evaluation studies on the issues pertaining to development and national interest.The Academy also publishes articles on planning and development related issues regularly.
NAPD houses a strong Information and Communication Technology (ICT) and Audio Visual Branch. Under this Branch NAPD has two modern computer laboratories and one language laboratory. Training aids and logistics include modern computer laboratory, CC camera, Video camera, multimedia projectors and modern Audio Visual equipments. 'NAPD has its own auditorium with a seating capacity of 250. The Academy organizes its own workshops, seminars and discussion meetings. The auditorium is rented to various government and noN government organisations. [Moshtaq Ahmad]