Nayabad Mosque is situated on the bank of the Dhepa river in village Nayabad in Ramchandrapur Union under Kaharol Thana of Dinajpur district, about 20 km to the north-west of the district town. The mosque, built on about 1.15 bighas of land, has been renovated by the Department of Archaeology, Bangladesh. A madrasa has recently been built in front of the mosque.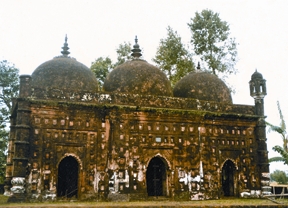 An inscription on the central doorway records the date of its construction as 2 Jyaistha, 1200 BS (1793 AD) in the reign of Emperor shah alam II. According to local traditions, the mosque was built by Muslim architectural workers who had come to this place from the west to build Kantanagar Temple sometime in mid-18th century. They had settled in Nayabad, a village near the temple, and had built the mosque for their own use.
It is an oblong three-domed mosque with octagonal towers at the four corners and measures 12.45m 5.5m externally. The walls are 1.10m thick. Of the three arched entrances the central one is bigger than the flanking ones. These are equal in height and width. The central arch is 1.95m high and 1.15m wide. There is an arched window each on the south and north sides. Multi-cusped arches have been used in the doorways and windows. There are three mihrabs inside in the western wall in line with the three entrances. The central mihrab (2,30m high and 1.08m wide) is bigger than the flanking ones which are of equal size. Three hemispherical domes cover the mosque, of which the central one is bigger than the side ones. Pendentives have been used in their phase of transition. The parapet and cornice are straight.
Of the four corner towers in the four outer corners of the mosque two (northeastern and northwestern) still possess the cupolas on their top. The top of the other two is now bare. The corner towers are plastered and gradually tapering; each had a lantern-like chhatri on the top crowned with a cupola. Four bands at regular intervals decorate the surface of each tower.
The terracotta plaques used in the decoration of the mosque have become loose and most of them have been damaged. At present there are about 104 terracotta plaques (rectangular in shape, 0.40m 0.30m) used in the surface decoration of the mosque walls. Though damaged some of them show floral and creeper motifs. It is noteworthy that one contains a depiction of a pair of peacocks. [Sania Sitara]