Nesarabad (Swarupkati) Upazila
Nesarabad (Swarupkati) Upazila (pirojpur district) area 199.15 sq km, located in between 22°39' and 22°49' north latitudes and in between 90°00' and 90°12' east longitudes. It is bounded by banaripara upazila on the north, jhalokati sadar, kawkhali (Pirojpur) and pirojpur sadar upazilas on the south, Jhalokati Sadar upazila on the east, nazirpur and Pirojpur Sadar upazilas on the west.
Population Total 212232; male 107127, female 105105; Muslim 159029, Hindu 53069, Buddhist 96, Christian 9 and others 29.
Water bodies Main rivers: Swarupkati, Kaliganga, Bainakati, Belua; Gabkhana canal is notable.
Administration Nesarabad Thana was formed in 1906 and it was turned into an upazila in 1983. Swarupkati Upazila was renamed as Nesarabad Upazila in 1985.
Upazila
Municipality
Union
Mouza
Village
Population
Density (per sq km)
Literacy rate (%)
Urban
Rural
Urban
Rural

1 (Swarupkati)

10

82

133

46826

165406

1066

74.3

66.4
Municipality

Area (sq km)

Ward

Mahalla

Population

Density (per sq km)

Literacy rate (%)

4.98

9

9

18083

3631

77.7
Upazila Town

Area (sq km)

Mouza

Population

Density (per sq km)

Literacy rate (%)

8.54

4

28743

3366

72.1
Union
Name of union and GO code
Area (acre)
Population
Literacy rate (%)
Male
Female




Atghar Kuriana 17

4960

9452

8939

74.30

Guarekha 38

6342

7465

7300

68.45

Jalabari 47

6507

10268

10063

68.30

Daihari 28

3836

5427

5374

69.16

Nesarabad 95

2080

6146

6516

62.07

Baldia 19

5122

15985

16098

61.30

Samudaykati 57

10409

7570

7481

67.18

Sarengkati 66

3299

6380

6422

62.29

Sutiakati 85

2927

14266

14005

68.86

Sohagdal 76

2586

14388

14604

69.62



Source Bangladesh Population Census 2001, Bangladesh Bureau of Statistics.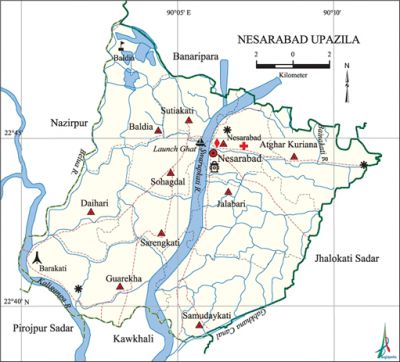 Archaeological heritage and relics Gayebi mosque and three domed mosque at Barchakatigram, Sarkar Bari Pancharatna Math at Alangkarkati gram, Chakrabarti Bari Mandir at Atghar Kuriana, remnants of Rajbari at Kaurikhara and Ragbari (18th century).
History of the War of Liberation The Pak army launched attack on Nesarabad upazila on 11 May 1971 for the first time. During the month of May and June the Pak army in collaboration with the local razakars conducted heavy plundering in different villages including Miar Hat and Inder Hat ports; they also set many houses and shops of these areas on fire. Besides, they also killed about 100 persons. The Pak army killed 7 persons of the same family at village Barajkati under Sohagdal union. On 10 November the Pak army and their local collaborators tied 18 innocent persons together with rope and tortured them to death in front of Barajkati Kachhari. During the war of liberation the Pak army in collaboration with their local agents killed about one thousand people of the upazila. They conducted the most brutal killing at Peara Bagan (guava garden) of Atghar Kuriana. After the end of the War of Liberation about 300 human skulls were collected from a ditch located behind the Kuriana College compound.
Marks of the War of Liberation Mass grave 1, mass killing site 1 (Barchakati).
Religious institutions Gayebi mosque and three domed mosque at Barchakatigram, Chakrabarti Bari mandir at Atghar Kuriana are notable.
Literacy rate and educational institutions Average literacy 68.2%; male 69.9%, female 66.4%. Noted educational institutions: Swarupkati College (1965), Shahid Smrity Degree College (1986), Fazila Rahman Mohila College (1989), Kabi Guru Rabindranath Degree College (1972), Akmal Muslim Secondary School (1930), Sutiakati Union Secondary School (1909), SGS Institution, Kamarkati NK Secondary School (1917), Public Institution Secondary School (1922), Alkirhat RA Secondary School (1924), Alangkarkati MR Secondary School (1927), Sutiakati Pilot Secondary Girls' School (1927), Sharsina Darus-Sunnat Alia Madrasa (1914).
Newspapers and periodicals Kalantar, Karshan.
Cultural organisations Library 18, club 2, theatre 1, cinema hall 3, playground 50.
Main sources of income Agriculture 36.17%, non-agricultural labourer 8.96%, industry 1.44%, commerce 30.05%, transport and communication 1.69%, service 7.19%, construction 2.20%, religious service 0.24%, rent and remittance 0.39% and others 11.67%.
Ownership of agricultural land Landowner 59.88%, landless 40.12%; agricultural landowner: urban 42.54% and rural 64.34%.
Main crops Paddy, jute, sugarcane, wheat, pulse, betel leaf, onion, garlic, vegetables.
Extinct or nearly extinct crops Local varieties of paddy, kaun, arahar.
Main fruits Banana, papaya, coconut, hog-plum, lemon, blackberry, litchi, guava, betel nut.
Communication facilities Pucca road 35' km, semi-pucca road 120' km, mud road 619 km; waterway 15 nautical miles.
Extinct or nearly extinct traditional transport Palanquin.
Noted manufactories Coconut fiber industry, welding factory.
Cottage industries Blacksmith, bamboo work, bidi factory.
Hats, bazars and fairs Hats and bazars are 24, fairs 7, most noted of which are Sharsina Pir Saheb Bari Mahfil, Chakrabarti Bari Shiva Chaturdarshi Mela at Karfar Thakur Bari and Atghar Kuriana.
Main exports Coconut fiber products, guava, banana, coconut, betel leaf, betel nut, hog-plum.
Access to electricity All the wards and unions of the upazila are under rural electrification net-work. However 26.55% of the dwelling households have access to electricity.
Sources of drinking water Tube-well 95.61%, tap 0.30%, pond 2.59% and others 1.50%. The presence of arsenic in an intolerable level has been detected in about 90% shallow tube-well water of the upazila.
Sanitation 28.71% (rural 26.11% and urban 38.83%) of dwelling households of the upazila use sanitary latrines and 64.55% (rural 66.04% and urban 58.75%) of dwelling households use non-sanitary latrines; 6.74% of households do not have latrine facilities.
Health centres Upazila health complex 1, satellite clinic 2, family planning centre 12, private clinic 2, community clinic 22, EPI centre 241.
Natural disasters The earthquake of 1762 heavily changed the geological formation of the upazila and silted many water bodies. Besides, many people were victims of the flood of 1787, and the cyclones and tidal bores of 1822, 1825, 1832, 1855 and 1909; these natural disasters also caused heavy damages to settlements and other properties of the upazila.
NGO activities Operationally important NGOs are brac, proshika, asa, CARE, caritas, bard. [Masud Parvez]
References Bangladesh Population Census 2001, Bangladesh Bureau of Statistics; Cultural survey report of Nesarabad (Swarupkati) Upazila 2007.