Notre Dame College, Dhaka
Notre Dame College, Dhaka established by the Holy Cross Fathers in 1949 at Luxmibazar, Dhaka as the first Catholic college named St Gregory College. It was shifted to new location in 1950 and operated activities as a full pledged college. From there, it was transferred to its present site at Motijheel in 1954, when took rename Notre Dame College after Mother Mary. The institution runs by Roman Catholics, is open to all students, whether rich or poor, Bengali or tribal, Muslim, Christian, Hindu, or Buddhist.
Since its inception, the priests of the Congregation of the Holy Cross have administered the college. First Principal of the college was John J Harrington (1949-54). Since its establishment, ten priests have served as the principal of the college.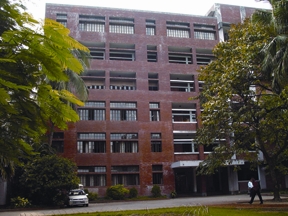 The students of the college demonstrated excellent results in the 1950s. The college took the first place in the combined merit list of the Higher Secondary Certificate Examinations seven times in eight years between 1952 and 1959. It got affiliation with the university of dhaka and national university in 1955 and 1992 respectively. In 1959, it was declared the best college in East Pakistan in recognition of the high percentage of successful candidates in various university examinations.
The college began with Bachelor of Arts and Commerce group. In 1960, it started Bachelor of Science courses. The medium of instruction in the college had Bengali during 1972-1997 and later, English medium was re-opened, although Bengali remained a compulsory subject. Even though it is a Degree College, most students study in the intermediate level for two years of class XI and XII. In the three-year Degree programme are also offered leading to a Bachelor Degree of Arts (BA Pass Course) or a Bachelor of Social Sciences (BSS pass course).
Besides the regular academic courses, an English Language Programme is conducted almost all year round and is open to all. The college inspires the students to become socially conscious. As an expression of social concern, the College conducts Literacy School (Class I to VIII) for slum children, in three shifts, morning, afternoon and evening. It teaches social welfare as a special discipline. Under this programme, almost 1150 students learn in the Literacy School in which about 125 students work of the college.
The college has been endowed with well-trained and devoted teachers from the very beginning but in the 1960s, it fell short of teachers. The problem led the college authority to borrow volunteers from a British organisation called Graduate Volunteers Service Overseas. They taught at the college from 1963 to 1970. During this period a renowned researcher Father Timn (1970-71) got associated with the college.
Like every other college in the country, Notre Dame College was becoming more and more trapped in the growing political agitation throughout the country during 1968-69 and its administration was put to a delicate and trying situation especially in the months of the country's war of liberation. The college got deeply involved in relief and rehabilitation work at that time and it found the activities as a great opportunity for the teachers and students to work together and share ideals and values.
As per Blue and Gold (2002-2004), a yearbook, Notre Dame College has 19 extracurricular clubs include: Debating Club, Science Club, Adventure Club, Rover Scouts (NDCRS), Business Club, Chess Club, Manabik Songho, Nature Study Club, Degree Club, Yuva (Youth) Red Crescent, Rotaract Club, Natyadol (Theater Group), Abritti Dol (Reciting Group), History Club, Association for Medical Help and Environmental Health Promotion, International Understanding and Relation Club, Cultural Club, Lekhak Kunjo (Writers' Guild) and English Club. Each club has it's own yearly magazine/publication. Among them Audri of Notre Dame Science Club is the most famous. Nishorga, annual magazine of Notre Dame Nature Study Club is also worth mentioning. Notre Dame College publishes students' monthly magazines Dhak Dhol and Chit Chat. The college also earned reputation for its performance in sports and debating and publication of high quality textbooks by its teaching staff.
The college orgainses annual sports competition, debate contest, science fair, and observes various national and international days. It celebrated its golden jubilee in 1999 and 60th anniversary in 2009. Its library is one of the oldest college libraries in Dhaka, having some rear books on various subjects. The library is enriched with a computer aided directory encyclopedias and an audio-visual system.
The college continued its efforts to provide good education and character formation to its students after the independence of Bangladesh and had to make a series of adjustments to the changed environment. The college has a department of guidance and counseling and a director of studies. It also has a small clinic of its own. [Benjamin Costa]